The January Man
(1989)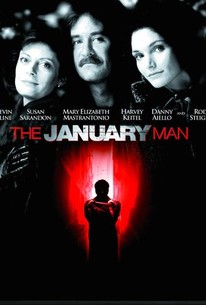 Movie Info
This offbeat police thriller with heavy doses of humor was written by John Patrick Shanley, the former playwright who wrote Cher's hit romantic comedy Moonstruck. Kevin Kline stars as Nick Starkey, a brilliant former New York City police detective who has been exiled to the fire department because of his unorthodox ways. He's called back to service by his police commissioner brother Frank (Harvey Keitel) in the hopes that he can find a bizarre serial killer who's been murdering one woman a month. Nick's condition to agreeing to help is that he gets to cook dinner for Frank and his snooty wife Christine (Susan Sarandon), a former girlfriend of his. Ultimately, Nick uses his Zen-like intuition and some high-tech computer hardware (with prominent product placement plugs) to find the killer, pausing to have an affair with the mayor's beautiful daughter Bernadette (Mary Elizabeth Mastrantonio. In the improbable conclusion, Nick figures out the exact day the killer will strike and the exact apartment! January Man is too tongue-in-cheek to be taken seriously as a thriller. In addition to Keitel and Sarandon the stellar supporting cast includes Rod Steiger as the mayor and Danny Aiello as a tough police captain who rails against Nick's "beatnik" ways.
Critic Reviews for The January Man
Audience Reviews for The January Man
Some barely coherent political cover up subplot kept me from getting hooked by this movie. Kline plays the funny central character who marches to the beat of his own drum. He isn't exactly welcomed when he returns to being a detective to catch a serial killer. Aiello plays the captain of police who butts heads with Kline's character. Rickman plays a quirky artist-type friend of Kline's. Mastrantonio wants the mystery solved because she was close to one of the victims, wants out from under the thumb of her father the mayor, and falls way too quickly for Kline's charms. The way the killer is tracked down is offbeat and while the movie has some good moments I found it strange that all these characters were thrown together in something so disjointed.
Byron Brubaker
Super Reviewer
I re-watched this recently, and I just had to lower my rating for it, it's worse than I remembered it. The story is predictable, cliched, and none of the characters are very interesting, especially the main guy played by Kline, who can't act. The rest of the cast is good, but they don't get a good script to work with. I did not like this movie.
½
Wretched writing and poorly directed. I can give you six good reasons why this film should have been a hell of a lot better: Kevin Kline, Susan Sarandon, Harvey Keitel, Danny Aiello, Rod Steiger and Alan Rickman.
Randy Tippy
Super Reviewer
The January Man Quotes
There are no approved quotes yet for this movie.