Jarhead 2: Field of Fire
(2014)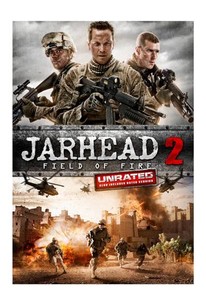 AUDIENCE SCORE
Critic Consensus: No consensus yet.
Jarhead 2: Field of Fire Photos
Movie Info
Tasked with escorting a defiant Afghan woman though Taliban-controlled territory in the war-torn country of Afghanistan, disillusioned Corporal Chris Merrimette (Josh Kelly) and his unit must summon all the courage they can find in order to complete their mission after their convoy comes under attack from the heavily-armed Islamic fundamentalists in this action-packed sequel to Sam Mendes 2005 war drama. Stephen Lang, Esai Morales, Cole Hauser, and Bokeem Woodbine co-star.
Critic Reviews for Jarhead 2: Field of Fire
Audience Reviews for Jarhead 2: Field of Fire
½
A formulaic military action film with some good performances from selected member's of the cast but is an unnecessary sequel or spin off to the darkly funny physiological drama nine years ago. It probably would of been excepted better if they had cut out the title Jarhead 2 and just kept Field of Fire, but even then theirs moments of absurdity that you cant except and feel that it runs short. Or more so just another film that reminds you of something you have seen before
½
By the title, you would guess that this is a sequel to Sam Mendes' war drama Jarhead. Well, the title is where similarities end. I feel that they should just have stuck with second half of the title which is Field of Fire, which sounds much better than an idiotic cash grab title. Anyhow, enough of that, Field of Fire is a decent war action film that tends to have plenty of genre clichés, but even with that, the field manages to be somewhat entertaining despite its limited budget and average story. The cast are decent at best, and they do what they can with the material, but like every other Straight to DVD title, Jarhead 2: Field of Fire has significant limitations due to production issues such as budget and other technical aspects such as technical accuracy. The film is decent and works well if you enjoy low budget action films. Of course the dialogue is so-so, but this isn't a god awful mess that people claim it to be. If you want a decent little film, this is an entertaining film, one that if you suspend the notion of authenticity, great acting and effective war carnage, you might enjoy. Go into the film expecting a fun film that is pure popcorn action and you might not be disappointed. However, if you got high expectation for a great war film, you won't find it here. Field of Fire is decent with lots of action, and I guess that's enough. Field of Fire is mindless fun and if you enjoy these types of films, give it a shot, you're might like it.
Jarhead 2: Field of Fire Quotes
There are no approved quotes yet for this movie.