Jason Goes to Hell - The Final Friday
(1993)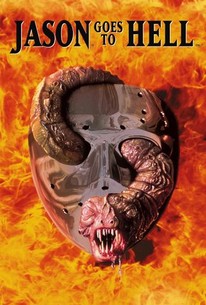 Jason Goes to Hell - The Final Friday Photos
Movie Info
Chapter nine in the Friday the 13th series finds supernatural psycho Jason Voorhees returning from the dead to possess the body of a medical coroner. ~ Jason Ankeny, Rovi
News & Interviews for Jason Goes to Hell - The Final Friday
Critic Reviews for Jason Goes to Hell - The Final Friday
Audience Reviews for Jason Goes to Hell - The Final Friday
New Line Cinema to the rescue for the franchise, or so we thought. The filmmakers are up to making old mistakes again, and the biggest mistake ever made in the Friday the 13th franchise was to make a movie about Jason, but never have him appear in it. In this one, Jason IS in it, but he's only in it for about 1/4 of the movie. The storyline is that Jason is this evil spirit that is destroyed within the first ten minutes of the movie and that he's inhabiting different bodies until he finds a way to be reborn. Well, that's just goofy. It's abundantly clear at this point that after Part 6, making changes to the series was fair game so they could do something different each time - striving to keep it from getting boring. New Line Cinema taking over the franchise helped push that right along, too. However, they went too far with this change. The scene that made this the most apparent is when the Coroner (Jason) has a naked man strapped to a table and proceeds to shave him before entering his body (I'm not making this up). While he's shaving him, the guy says "Fuck... what the hell are you doing?" Yeah, I was wondering about that myself. Why does he do this? So he can look good when he goes out on the town in his new body? And why did he take his clothes off? It makes no sense. Most of the scenes in this movie make no sense. The only scenes in the movie that I had any investment in was the scene between Creighton Duke and Stephen in the jail cell (which is, amazingly, really well-played), as well as the scene where the loudmouth fat lady in the restaurant gets her teeth, literally, bashed in by "Jason." And for me, two scenes don't make for a film worth watching. However, the BIGGEST mistake that the filmmakers made in going with this storyline was not having the actor who plays Jason, Kane Hodder, on-screen as one of the bodies Jason inhabits in the film. To me, that's a no-brainer. Instead, he has a small cameo as a Swat team member that "Jason" murders. It's pretty obvious that this movie had no fresh ideas whatsoever. It's almost as if they handed it over to a bunch of people who had no idea what the series was about or had any interest in it. Hell, the people making this couldn't even spell Voorhees correctly on the mailbox outside of the Voorhees household. What a total and blatant screw-up that is! The music in the movie, however, is a total nightmare. It is absolutely atrocious and, I'm sorry Harry Manfredini, but you screwed the pooch on this one. I'm not really sure what it was he was going for, but I think he might have been trying to make the music more epic, but it doesn't sound epic coming out of a synthesizer. It just sounds totally over-the-top and sticks out like a sore thumb. The bottom line is that this is a less than mediocre entry into the series that was meant to be its last, but of course, Jason never dies, not even when they make one about him actually dying. It's garbage, pure and simple. Pass it up if you can.
Tim Salmons
Super Reviewer
½
You know those horror flicks wherein the characters do things so dumb that you want to murder the filmmakers? Well this is one of those films. Only for series fans, and they should know by now.
Kevin M. Williams
Super Reviewer
½
If you can understand what this movie is about, you are on acid.
Coxxie Mild Sauce
Super Reviewer
Jason Goes to Hell - The Final Friday Quotes
| | |
| --- | --- |
| Assistant Coroner: | Hey fuck! How you doing you fat ass maggoty blown up fuck?! Suck this! |
| | |
| --- | --- |
| Assistant Coroner: | (the main coroner holds up a tool to his face) - Yes? ...That's a probe. |
| Assistant Coroner: | (the main coroner holds up a tool to his face) - Yes? That's a probe. |
| | |
| --- | --- |
| 3rd Officer: | I'll be back later. Don't do anything stupid. |
| Steven Freeman: | What am I going to do? I'm locked in a frickin' cell. |
| | |
| --- | --- |
| Joey B.: | People are going to come see Jason's home town, and they're going to come with appetites. |