Jaws 2
(1978)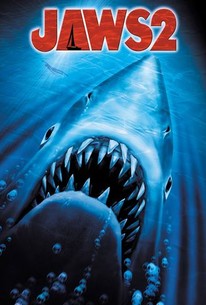 TOMATOMETER
AUDIENCE SCORE
Critic Consensus: Jaws 2 never approaches the lingering thrills of its classic predecessor, but it's reasonably entertaining for a sequel that has no reason to exist.
Movie Info
Police chief Brody must protect the citizens of Amity after a second monstrous shark begins terrorizing the waters.
News & Interviews for Jaws 2
Critic Reviews for Jaws 2
Audience Reviews for Jaws 2
½
Here's a job nobody could want: follow up the film so culturally resonant that it kept people from taking baths for a time. And didn't they kill the monster in the first one, yeah? So what gives? And yet, pushing the envelope of plausibility to its absolute limits, another big shark somehow shows up in that little out-of-the-way vacation spot for the masses, Amity, chewing on various and sundry, no discriminator at all. The chief tries to warn the town but nobody's buying what he's got to say and so he must face the brute himself. Barring the feeling of things being forced way much, the ridiculous scenario, and stupid-is-as-stupid-does character parade, all in all its not as terrible as one might think ... or it is, only yer too nice to say.
Kevin M. Williams
Super Reviewer
One good bite deserves another! Good Movie! It's basically like this: when the film takes place on land, it's sometimes slow-moving and not always interesting. When it's on water, it's often exciting and tense, with suspense that sometimes equals the original. It's definitely not as great a thriller as Jaws, but it is a worthy sequel and certainly is better than the likes of Deep Blue Sea, Anaconda, and Lake Placid. The small island resort town of Amity is trying to bounce back from the financial troubles that suffered after becoming known as the site of shark attacks four years earlier. Mayor Larry Vaughn is welcoming developer Len Peterson and his new resort to Amity. Two scuba divers are exploring the area where the Orca sank after police chief Martin Brody killed a huge shark four years ago. A shark shows up and devoured the two divers, but not before one of the divers takes a close-up picture of the shark's eye, and sometime later, while a mother is driving a boat that's pulling her water-skiing teenage daughter, the shark devours the daughter and causes the mother to accidentally blow up the boat, then a killer whale is found on the shore with a huge bites on it. After Brody sees this, he knows there's another huge great white shark in Amity's waters, but Vaughn and Peterson explain these attacks away as non-shark accidents, because the thought of another shark in Amity's waters would drive tourists away from the new resort and cause the new resort to lose money. It looks like Vaughn is still a mayor who puts money ahead of people's lives. Brody tips his gun's hollow point bullets with cyanide and melted candle wax and tells his sons Michael and Sean to stay away from the beaches and told them to not go sailing with Mike's friends, who include Vaughn's son Larry Vaughn Jr. Everyone thinks Brody's fears are shark trauma-induced paranoia. Brody even tries to call his friend Matt Hooper, who is doing research on a boat in the Antarctic Circle, and Matt will be in the Antarctic Circle for a few more months. While keeping an eye on the waters from the beach's shark tower, Brody sees a huge dark spot in the water and rings the tower's alarm bell, but it turns out to be a school of bluefish. Vaughn fires Brody for causing this panic at the beach and scaring tourists and their money away, and even though they were told not to, Michael and Sean go out sailing with Junior Vaughn and their friends, unaware that the shark is trailing them. Brody knows it's up to him to find them before its too late.
If a sequel of a classic Spielberg needs to exist I would rather have a Jaws 2 then an E.T. 2. With that said, this is a pretty solid sequel but is the cause for more terrible films to come.
Joshua Wilburn
Super Reviewer
Jaws 2 Quotes
| | |
| --- | --- |
| Martin Brody: | Alright, you big bastard! Come On! I've got something for ya' now! That's it! Attaboy, come one! Right over here! Open wide OPEN WIDE! SAY AAH! |