Jaws 3
(1983)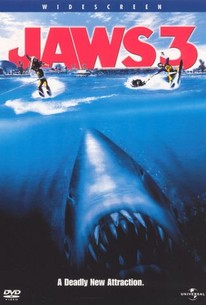 TOMATOMETER
AUDIENCE SCORE
Critic Consensus: A cheese-soaked ocean thriller with no evident reason to exist, Jaws 3 bellows forth with a plaintive yet ultimately unheeded cry to put this franchise out of viewers' misery.
Movie Info
Produced in 3-D for the theatre, the great white escapes its tank at Sea World and terrorizes the town.
News & Interviews for Jaws 3
Critic Reviews for Jaws 3
Audience Reviews for Jaws 3
Reaching new depths of terror! One of the worst sequels ever in the history of bad sequels! Overall this is just a bad film. I'm not a big one for lists so I'll not play that game here but it is pretty much without any value at all. The plot is poor, the effects are rubbish, the direction is weak, the script just a load of nonsense and there is a total lack of tension, thrills or excitement. The original is a classic and this film is further proof that sometimes classics should be just left alone. Michael Brody and Sean Brody, the sons of former Amity police chief Martin Brody, work at Florida's Sea World, a seaside park run by Calvin Bouchard. Sean befriends Kelly Ann Bukowski, and Michael's girlfriend Kathryn Morgan is Sea World's head scientist who always works with Sea World's dolphins Cindy and Sandy. In its man-made lagoon, about 40 feet under the water, Sea World opens the Undersea Kingdom, a new set of underwater glass tunnels that have their own control room, and Calvin's friend Philip FitzRoyce is there to do some filming. When Sea World diver Shelby Overman vanishes, everyone is worried. Michael and Kathryn head into the water, where they find a baby great white shark and decide to bring it to Sea World to put it on display, but at Sea World, the baby shark dies. When Overman's body is found, Michael vomits when he sees it. Kathryn looks at the body and knows that the baby shark could not have been the shark that killed Overman, because the baby shark's bite radius is too small its 35-foot-long mother killed Overman. When Kathryn and Michael tell Calvin and Philip about the shark, they all try to evacuate the park, including the park's beach, as they try their best to protect Sea World's visitors from the shark.
Unlike Jaws 2 I have no respect for this film and the fact that it tries to relate itself with the classic film by Mr. Spielberg. Shame on you Joe Alves.
Joshua Wilburn
Super Reviewer
Jaws was a good blockbuster, Jaws 2 was an Ok blockbuster. This is an excuse to cash in on the first one. The 3D in the cinema was as bad as this movie overall.
Directors Cat
Super Reviewer
Jaws 3 Quotes
There are no approved quotes yet for this movie.