Jaws: The Revenge
(1987)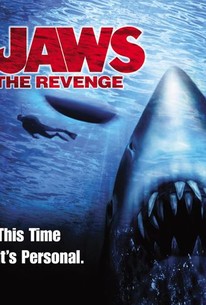 TOMATOMETER
AUDIENCE SCORE
Critic Consensus: Illogical, tension-free, and filled with cut-rate special effects, Jaws: The Revenge is a sorry chapter in a once-proud franchise.
Movie Info
Lorraine Gary stars as Ellen Brody, the widow of the police chief played by Roy Scheider in the first two films. She is now convinced that the shark has targeted her family for death.
News & Interviews for Jaws: The Revenge
Critic Reviews for Jaws: The Revenge
Audience Reviews for Jaws: The Revenge
This abomination can only be described with a few words: Boring characters, dialogue that makes you cringe, stupid plot and A SHARK THAT STANDS ON WATER AND ROARS LIKE A LION.
Tyler Robertson
Super Reviewer
What were they thinking! What was Michael Caine thinking! Another pointless repetition and a meaningless side story about a pilot who likes a woman. Dont go into the cinema.
Directors Cat
Super Reviewer
½
Wow. First of all this movie completely ignores all that happens in the third movie as if it didn't happen. And what does the shark (with his super powered ability to know where this family is at all times) have to get revenge for? Because it's shark friends were killed by them? The kill count in this movie is a pitiful '2'. Yes, 2 people get eaten. A third gets eaten at the end of the movie, is visibly chomped up, swallowed, stays in the sharks stomach for like 10 minutes underwater and in stomach acid, is rammed by a boat spear inside the shark, and gets electricuted and blown up by a huge bomb within the shark, and then is seen moments later conscious and alive talking in the water with some blood on him. Some studio big wig wanted a happy ending there. Plus they crash their plane in the water for no reason and their boat is instantly floating rubble the second they crash into the shark. Not to mention the shark is magnificent at getting people while they are still safely in the middle of their boat the movie (i'm still scratching my head as to how the son at the begining gets killed). Pretty pathetic, and would be a laughable comedy had someone been here to enjoy it with me. My biggest question is how the hell did they get Michael Caine to do this piece of crap. The best part of it is that Lance Guest from the Last Starfighter was in it, and gave a good creepy stare like old times.
Curtis Lilly
Super Reviewer
Jaws: The Revenge Quotes
| | |
| --- | --- |
| Michael: | What do you know about it? |
| Hoagie: | Well she got the idea in her head that the shark that killed Martin and Sean is now following the family. |
| Jake: | Hey, he's not talking about OUR shark is he? |
| Jake: | Hey, he's not talking about our shark is he? |
| Michael: | (after a long pause) What do you do when you're not flying people? |
| Michael: | What do you do when you're not flying people? |
| Hoagie: | I deliver laundry. (smiles) |