Jayne Mansfield's Car
(2013)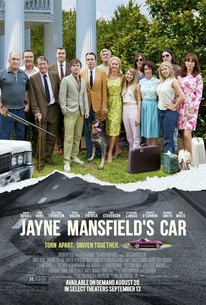 TOMATOMETER
AUDIENCE SCORE
Critic Consensus: Jayne Mansfield's Car assembles an impressive number of talented actors, but the screenplay -- co-written by director and star Billy Bob Thornton -- never gives them much of anything to do.
Jayne Mansfield's Car Photos
Movie Info
In what critics are calling his best work as writer/director since SLINGBLADE, Academy Award (R) winner Billy Bob Thornton stars - along with Oscar (R) winner Robert Duvall, two-time Oscar (R) nominee John Hurt and Golden Globe winner Kevin Bacon - in this story of fathers and sons, wars and peace, and the turbulent time that changed America forever. It's 1969 in a small Alabama town, and the death of a quirky clan's long-estranged wife and mother brings together two very different families for the funeral. But do the scars of the past hide differences that will tear them apart or expose truths that could lead to the most unexpected collisions of all? Robert Patrick (WALK THE LINE), Ray Stevenson ("Dexter"), Frances O'Connor (THE HUNTER), and Katherine LaNasa ("Deception") co-star in the acclaimed comedy/drama that Twitch Film calls "A perfect film for a lazy summer day with near-perfect performances across the board!" (c) Anchor Bay
News & Interviews for Jayne Mansfield's Car
Critic Reviews for Jayne Mansfield's Car
Audience Reviews for Jayne Mansfield's Car
½
In "Jayne Mansfield's Car," a woman had run away from her family to start a new one in England. Decades later, she dies. Her last request is to be buried back in her native Alabama which her old family has complicated feelings about, as her new family accompanies her body. "Jayne Mansfield's Car" wastes a very good cast that includes Robert Duvall, John Hurt, Billy Bob Thornton(who also directed and co-wrote), Kevin Bacon, Robert Patrick, Ray Stevenson, Frances O'Connor and Katherine LaNasa on a cliche-ridden story that just seems satisfied with recycling tired stereotypes about the South(strange, considering Thornton is from Arkansas), the English and the 1960's. In fact, France O'Connor is about the only one of the cast to rise above the occasion. Which is a shame because there are some good thoughts via this family haunted by war that the best way to make someone a pacifist is to drop them in a war zone.
½
An all-star cast, in a film written and directed by, and aso starring, Billy Bob Thornton, about a good 'ol boy southern redneck, Jim Caldwell, with a morbid curiosity in fatal car wrecks, played superbly by Robert Duvall, and his eccentric, hugely dysfunctional family, set in 1969. It is also about war and peace, the generation gap, and how family is defined. Big Jim is one cold-hearted sumbitch who at one point laments that his eldest son, who never saw action, turned out to be pretty normal while the younger two, who enlisted, saw heavy action, and came home heroes are mighty screwed up. It is about how different generations see war, based on their experiences. The heat of the small-town Alabama summer just drips off the screen and the dialog seems genuine and unforced. There is a dark humor that trickles in and out of various scenes, which otherwise might have become overbearing and depressing. I thought it a well done film, in spite of one little plot twist toward the end that went off in an absurd direction I liked it. A lot.
Mark Abell
Super Reviewer
Billy Bob Thornton tells stories like a novelist. Not that there's anything intrinsically wrong with that, but when I see a scene that is nothing but flavor in a movie I really want it go somewhere. Like when Kevin Bacon dives in the water with his two nieces: I felt the relief from the heat, but it didn't mean anything and I think in a movie--I mean you don't have all day--every second has to mean something or it reads like a home movie. That's not to say I didn't like the flavor. It means I'm conflicted about this film.
Bathsheba Monk
Super Reviewer
Jayne Mansfield's Car Quotes
| | |
| --- | --- |
| Kingsley Bedford: | We all have a crash of some sort awaiting us. |
| Jim Caldwell: | Yeh. I put pieces together all the time, but they all fall apart. |