JCVD (Van Dammage)
(2008)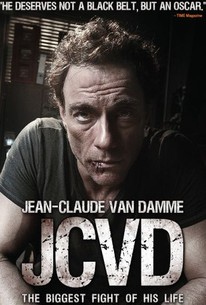 JCVD (Van Dammage) Photos
Movie Info
Jean-Claude Van Damme plays himself in this meta-crime comedy that finds him garnering mores headlines than he's had in years after stumbling into an in-progress bank heist. Down and out, with only straight-to-DVD titles under his belt and a recent job lost out to fellow has-been Steven Seagal, the aging action star returns to Belgium a broken man fresh from losing a custody case for his daughter in Hollywood. Upon his arrival, the bad news continues with a disastrous ATM encounter that leads him into the bank and straight into a robbery situation, for which he's about to be blamed. Soon, crowds grow outside on the street, with the cops quick to point the finger at him and his fans cheering for his release. The film garnered a cult following during its festival run and awarded Van Damme his first theatrical release in the States in almost a decade.
News & Interviews for JCVD (Van Dammage)
Critic Reviews for JCVD (Van Dammage)
Audience Reviews for JCVD (Van Dammage)
½
Mr Van Damme finally makes the leap to a grown up film and some proper acting, the film itself is rather weak really, the plot is basic and its been done many times before, 'Killing Zoe' comes to mind. The acting is good but the characters are slightly cliched and the look is pretty thin on the ground. The best thing is indeed Mr Van Damme who does really serve up a slice of true inner acting from the heart. It does come across as a kind of ego trip for Van Damme as he seems to want us to feel sorry for him, there is one moment where he does seem to crack in front of the camera which is a very strong moment but it does come across as wanting sympathy, hard when your a big movie star. Still he does prove he can act seriously and could make better films, although he does sound better in French than English haha The start of something more interesting than martial arts maybe.
Phil Hubbs
Super Reviewer
½
The premise is fantastic: You have a former action star who didn't have a hit in years playing himself at rock bottom: law suit for custody, money problems, stalling career. While still being beloved in his home country of Belgium Van Damme gets in the middle of a bank robbery and one shouldn't give away more than that. The delivery of this insane idea is just as awesome, the great soundtrack, a fantastic opening sequence, non-chronological narrative perspective and very unusual camera work really make this work. To top it all Van Damme delivers what's easily the best performance of his career, really making you care for this man who has hit rock bottom. The highlight is a 5 minute monologue, that may or may not have been improvised, reflecting upon his career and life, when real life and fiction melt into each other. That's confusing, often funny, sometimes touching but extremely entertaining. Only the ending doesn't entirely hold up to the great promise, but that doesn't ruin the overall crazy experience this film offers.
"It's hard for me to judge people and it's hard for them... not to judge me. Easier to blame me. Yeah, something like that." Those of you who actually read my reviews, have probably understood that I'm not a big fan of Jean Claude Van Damme. Until now... I've seen lots of Van Damme films, most of his earlier works and some of his newest. I'll admit that 'Kickboxer', 'Bloodsport' and 'Cyborg' are somewhat special to me because I was into martial arts in my teens and early 20's (before I got beaten up REAL good in the ring = grade A concussion). Van Damme with his roundhouse kick and splits! You gotta like it! But when I grew a brain and started to think of movies at a higher level, it came to me that Van Damme films actually suck. Just like all of the other B action stars like Lundgren and even Stallone. But this film' JCVD' changed everything. In 'JCVD', Van Damme plays himself. Troubles with money, child custody etc. A vulnerable man, not a bulletproof action hero. I'll say this once... Jean Claude Van Damme, "The Muscles from Brussels" can act. I'm not getting that much into the story but later on in the movie, Van Damme has a couple of minutes long monologue that made me kinda misty, weepy or whatever you may call it... The acting is, I still can't believe I'm saying this, top notch, especially the star of the film, Jean Claude Van Damme, gives a career best (and saving?) performance. The story is somewhat realistic and the director who was totally unknown to me, Mabrouk El Mechri, has done a fine job putting this film together. The camerawork is stellar with a bit too dark visual image. But all together, the production of the movie looks very good. So, I'm glad that I saw this movie. I've skipped a lot of Van Damme movies in the past and for a reason, but 'JCVD' was a pleasure to watch. It gives us a sight on what kind of a person Van Damme really is. I just hope that he mamages to give us good movies in the future, instead of all these 'Second In Command' or 'Double Team' kind of crap flicks. I'll recommend this movie to all fans or haters of Van Damme. A real surprise and come to think of it.. One of the better films of 2009.
JCVD (Van Dammage) Quotes
There are no approved quotes yet for this movie.