Jean De Florette
(1986)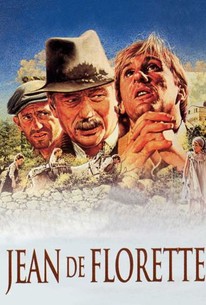 Movie Info
Co-adapted by director Claude Berri from a novel by Marcel Pagnol, this hugely successful French historical drama concerns a bizarre battle royale over a valuable natural spring in a remote French farming community. City dweller Jean Cadoret (Gérard Depardieu) assumes ownership of the spring when the original owner is accidentally killed by covetous farmer Cesar Soubeyran (Yves Montand). Soubeyran and his equally disreputable nephew Ugolin (Daniel Auteuil) pull every dirty trick in the book to force Cadoret off his land, but the novice farmer stands firm. Although the Soubeyrans appear to gain the upper hand, the audience is assured that they will eventually be foiled by the vengeful daughter of the spring's deceased owner -- thus setting the stage for the film's equally successful sequel, Manon of the Spring.
Critic Reviews for Jean De Florette
Audience Reviews for Jean De Florette
½
It almost makes us feel guilty that we are rooting for the villains, who conspire so greedily to force a man off his own land, and is elevated even more by Jean-Claude Petit's wonderful score and two excellent performances by Yves Montand and Daniel Auteuil.
Carlos Magalhães
Super Reviewer
A beautiful film in every way. Well, almost every way -- Gerard Depardieu is not handsome even when caught on film when he was young and thin. Despite his aesthetic challenges, the story is marvelous and beautifully acted.
Christian C
Super Reviewer
A deep, moving tragedy drawn from the bible's book of job. It reaches out as a lesson in cinema and in life.
Pierluigi Puccini
Super Reviewer