Jeepers Creepers 2
(2003)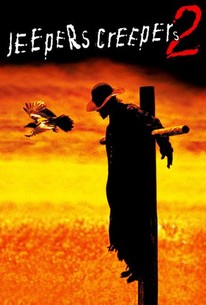 Jeepers Creepers 2 Photos
Movie Info
The Creeper is back, and he's brought his appetite with him in director Victor Salva's sequel to his popular 2001 sleeper. Stranded on the dreaded East 9 Highway while returning home from winning the championship game, a group of basketball players, cheerleaders, and coaches quickly realize that there's more to fear than a broken down bus when The Creeper descends mercilessly upon them. As his 23-day feeding frenzy draws to a close, The Creeper needs the sort of nourishment only a vital group of young athletes can provide, and to survive the night, the terrified teens will have to fight to their dying breaths.
News & Interviews for Jeepers Creepers 2
Critic Reviews for Jeepers Creepers 2
Audience Reviews for Jeepers Creepers 2
Worse than its predecessor, this one has only one unintentionally funny sequence that's the least watchable. For the rest, it's a mighty sucker. With a generous heart, I give it 0.05/5.
familiar stranger
Super Reviewer
½
Makes me want to go back and watch the original to see which I like best, but this is one of the best movies I'd seen in awhile...the creature is awesome. There is one of the deleted scenes I wish would've been included though, and probably would've made this a 5-star movie in my book.
Jason Owens
Super Reviewer
½
Much better than I expected. Not good by any means, but I enjoyed it and genuinely wanted to see what happened at the end. Okay if you have nothing else to do.
Jameson Worley
Super Reviewer
Jeepers Creepers 2 Quotes
| | |
| --- | --- |
| Izzy Bohen: | Javelins? We got spears on this bus? |
| Scott Braddock: | Sticks. You want to wait around so that you could poke at that thing with sticks? |
| Izzy Bohen: | That thing shows up here again I'd rather have a sharp stick in my hand than nothing at all. |
| | |
| --- | --- |
| Coach Charlie Hannah: | What is that? A flare gun? You plan on being lost at sea in this thing? |
| Bus Driver Betty: | You making fun of my lock box? Because everything in this thing has saved my sweet ass at least once. |
| | |
| --- | --- |
| Scott Braddock: | You want to play cock on the walk, bro? |
| Deundre "Double D" Davis: | Why do I think you want to call me something else? You want to call me something else, Scotty? 'Cause I don't think you get it. I can see you thinking it, whether you say it or not. |
| | |
| --- | --- |
| Boy: | You Taggert? |
| Older Jack Jr.: | That's right. |
| Boy: | Can we see it? |