The Jerk
(1979)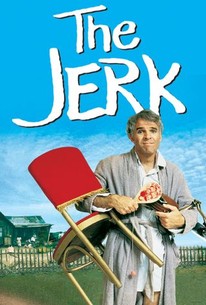 Movie Info
Carl Reiner directs Steve Martin (who co-wrote the script with Carl Gottlieb) in this gag-laden comedy about an idiotic white man, raised by a poor family of black sharecroppers, who doesn't realize he's not black. Navin R. Johnson (Steve Martin) is told the horrible truth when he finds himself instinctively tapping his feet to an easy listening tune on the radio, instead of a low-down blues. His mother (Mabel King) tells him he's white and Navin takes to the road (in a World War II bomber helmet and goggles) to start a new life in St. Louis. A filling station owner, Harry Hartounian (Jackie Mason), give Navin his first break, hiring him to pump gas. One day at the station, Navin has a brainstorm, concocting an invention called "The Opti-grab," a combination handle and nose-brace for eyeglasses. But Navin runs into trouble when a crazed killer (M. Emmet Walsh) picks out his name at random from the telephone book and tries to kill him. Navin escapes to a traveling carnival, where he wrangles a job as the "guess-your-weight" man. At the carnival, he discovers his sexual nature, thanks to stunt rider and S&M enthusiast Patty Bernstein (Catlin Adams). But Navin meets the beautiful Marie (Bernadette Peters) and he quickly falls in love. In the meantime, the "Opti-grab" has taken off and soon Navin is a millionaire. ~ Paul Brenner, Rovi
Critic Reviews for The Jerk
Audience Reviews for The Jerk
The most irritating thing in this film (apart from the generally pedestrian sense of humor and lack of structure) is that it can't seem to decide if Steve Martin's character is supposed to be a naive idiot who doesn't know anything or a quick-witted smartass whenever required.
Carlos Magalhães
Super Reviewer
½
i feel like this film gets funnier to me every time i watch it. martin and peters are both in top form. one of my favorite comedies of all time.
Few movies can stand the test of time like this one!! Love me some Steve Martin!
Thomas Johnston
Super Reviewer
The Jerk Quotes
| | |
| --- | --- |
| Navin Johnson: | Truck Driver Picking Up Navin: St. Louis? Navin R. Johnson: No, Navin Johnson. |
| Navin Johnson: | No, Navin Johnson. |
| | |
| --- | --- |
| Madman: | (aiming at Navin at the gas station) Die, gas pumper! |
| Madman: | [aiming at Navin at the gas station] Die, gas pumper! |
| | |
| --- | --- |
| Patty Bernstein: | [provocatively] You know what I wanna do? |
| Navin Johnson: | What's that? |
| Patty Bernstein: | Guess *your* weight. [starts squeezing on him everywhere] |
| Navin Johnson: | Hey, you're really trying to be accurate! |
| | |
| --- | --- |
| Navin Johnson: | Good Lord - I've heard about this - cat juggling! Stop! Stop! Stop it! Stop it! Stop it! Good. Father, could there be a God that would let this happen? |