The Jerky Boys
(1995)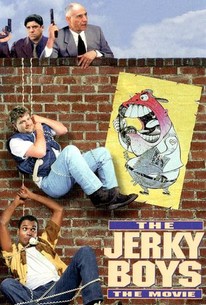 Movie Info
Two "low-lifes from Queens" find themselves involved with the mob and the police after making a series of prank phone calls in this comedy which is based on the work of Johnny Brennan and Kamal Ahmed who currently have two hit comedy albums. In the film two comedians, both in their '30s, essentially play themselves.The story opens as the two chronically-unemployed-and-proud-of-it guys make a series of prank phone calls. The Jerky Boys decide to call a local Mafioso after they become irritated with the bragging of an old high school chum who works with the local mob. Just for yuks, Johnny calls and claims to be a famed Chicago hitman on the lam with his buddy. They are believed and subsequently taken to a night club to listen to Tom Jones perform. The boss is not fooled by the boys' antics. Unfortunately, a local cop is fooled and believes the Jerky Boys are really on the run. If he can catch them, they might lead him to the head honcho in Chicago.
Critic Reviews for The Jerky Boys
All Critics (12) | Top Critics (2) | Fresh (2) | Rotten (10)
While not intended for those effete sophisticates whose idea of film is a Merchant-Ivory classic, this first movie for Johnny Brennan and Kamal proves fitfully funny as the boys bumble along with their low '90s humor.
The lame duo truly come off looking (as is repeatedly said in the film) like 'two low-lifes from Queens.' (published 2-17-95)
January 5, 2005 | Rating: F
A bad idea executed poorly
January 9, 2004 | Rating: 1/5
Audience Reviews for The Jerky Boys
The Jerky Boys Quotes
There are no approved quotes yet for this movie.