Jerry and Tom
(1998)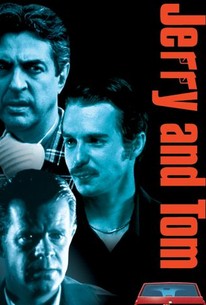 Movie Info
Tom and Jerry are two hit men, they work by day at a third-rate second-hand car dealership. Tom is a veteran and Jerry is a novice in their business, and their attitude toward their profession differs a lot. It shows when Tom is required to kill his old friend Karl.
Critic Reviews for Jerry and Tom
Audience Reviews for Jerry and Tom
I think this movie, while not great, certainly blends Tarantino-style dialogue with Scorsese execution. In many ways this is like watching a more modest and smaller version of GoodFellas. Neither Jerry or Tom are really that far up on the mob ladder, they're really two-bit hitmen. The story is deceptively simple, Tom brings Jerry into their business. At first Jerry is apprehensive and nervous about doing a job. As time progresses, Jerry becomes a little too reckless and cocky for his own good, so Tom has to rein him in, to keep both Jerry and himself safe and out of trouble. Simple enough. Problem is the film feels more like a series of skits than a full-fledged narrative. Yes, Jerry does go through a change and his change from nervous rookie to ruthless killer is the thread that's holding all of this together, but it's not great. It's just barely a narrative. Thankfully, the dialogue, which feels like something out of a Tarantino movie, is very good and Sam Rockwell and Joe Mantegna have great chemistry together. That certainly makes the film's structure a little more tolerable and I do find the script really well-written, with plenty of clever lines, but I don't think that the movie is probably as fully realized as it could've been. I can imagine everybody raving after reading this script for the first time. Maybe not raving vociferously, but definitely feeling very positive about it. It doesn't come that way on screen unfortunately. I don't blame the script, I don't even blame the treatment itself, but it just didn't come together as well as it could've. Still this was a good, solid movie with great dialogue and good acting, these elements just don't come together to make a great film.
Jesse Ortega
Super Reviewer
"Jerry and Tom" is a wholly unknown work of cohesive directorial vision, showing us independent cinema at its absolute best. The director, Saul Rubinek, exhibits a largely unexpected amount of talent. Scenes will transition from one setting to another without cutting a single time, blending perfectly together. It's utterly magnificent and will no doubt leave you in question. As for the acting, Mantegna and Rockwell are great and funny in their lead roles and the supporting cast is phenomenal as well. I only had a problem with the flashbacks, which I could've done without, but overall, I was pleasantly surprised. The mood was just right and most of the violence was kept off-screen. You got wonder why the best films are the ones that no ones ever heard of, but that's a good thing. Movie lovers tend to feel accomplished when they find a hidden gem. I know I do.
Stephen Earnest
Super Reviewer
Though often funny as a black comedy, with stylish direction and a great visual sense, it lacks a narrative and back story befitting of the actors involved. I loved both Sam Rockwell and Joe Mategna in it, but it was hard to relate to either of them with the unorthodox shifts in scenes and time, which did look good but sometimes gave the film an overall disjointed feel. Certainly unique enough to make it worth checking out.
Jeffrey Meyers
Super Reviewer
Jerry and Tom Quotes
| | |
| --- | --- |
| Stanley: | Know any good jokes? |
| | |
| --- | --- |
| Vic: | You had to be insane not to shoot Reagan. |
| | |
| --- | --- |
| Tom: | I fuckin' hate it when they see it coming. |