Jerry Maguire
(1996)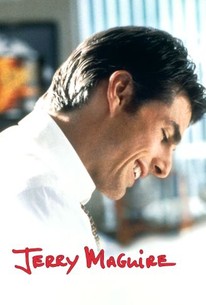 TOMATOMETER
AUDIENCE SCORE
Critic Consensus: Anchored by dazzling performances from Tom Cruise, Cuba Gooding Jr., and Renée Zellweger, as well as Cameron Crowe's tender direction, Jerry Maguire meshes romance and sports with panache.
Movie Info
Jerry Maguire is a man who knows the score. As a top agent at Sports Management International, Jerry is unquestionably a master of his universe. Trouble is -- Jerry's mind, mouth and soul are usually on automatic pilot. He's good at friendship, but (as his numerous ex-girlfriends testify) bad at intimacy. Still, there's absolutely nothing wrong with Jerry that a sudden dose of failure can't cure. A week after spontaneously writing a stirring, visionary mission statement for SMI entitled 'The Things We Think And Do Not Say: The Future of Our Business,' he's unceremoniously fired. Stripped of his job and a good measure of his identity, the tenacious but hanging-by-a-thread Jerry is forced to start from scratch. He's joined on his journey to redemption by two unlikely allies: Rod Tidwell, a second-tier wide receiver for the Arizona Cardinals; and Dorothy Boyd, a wistful 26-year-old single mother who departs her accountancy position with SMI for a very uncertain future with her new boss.
Critic Reviews for Jerry Maguire
Audience Reviews for Jerry Maguire
The narrative feels a bit long and could have certainly been shorter, but Crowe carries out this well-written, superbly-edited romance/character study with a lot of honesty and talent, relying on fantastic performances by Tom Cruise, Cuba Gooding Jr. and Renée Zellweger.
Carlos Magalhães
Super Reviewer
Cameron Crowe's films always seemed to have a certain, personal atmosphere that emphasizes on human emotion, and its characters. I find his work to be quite underrated, and manage to always make some great, entertaining movies that have great meaning. With Jerry Maguire is a great film that boasts a well crafted story, and has some great performances from its lead actors, Tom Cruise and Renee Zellwegger. The film has some effective comedy elements mixed in with its dramatic elements, and add to that some great performances and engaging story, and you have a film that memorable from start to finish, and is one of Cameron Crowe's best films. I was skeptical about seeing this film, and I never wanted to really give it a chance, but I'm glad I did. Tom Cruise does some great work, and makes the film what it is. This film surprised me, and definitely exceeded my expectations. If you enjoy Cameron Crowes work, then you're going to enjoy this film. The story is well crafted and highly engaging from start to finish. Every actor here delivers top notch performances that make the film what it is. Jerry Maguire successfully blends two genres into film, effective comic relief and great dramatic moments rounds out the film to make something very enjoyable and is a movie well worth your time if you' want something humorous , yet serious at the same time. This is a near perfect film, one that is directed by a director who knows how to make terrific drama films because he makes them in a way that is quite personal, and it succeeds on many levels.
Having Humour, Romance, Drama and Sports all wrapped up into one breathtaking film, has never been established any better than the way that "Jerry Maguire" does it. Tom Cruise plays a business working in the sports industry. Once he finds himself in a rut, not sleeping and not gaining specific revenue, he quits his job to hold on to his last money-making opportunity, as the manager Rod Tidwell (Cuba Gooding Jr.). As he falls in love, meets new people, and falls apart many times over again, this film has many happy moments, along with many sentimental moments. There are powerhouse performances given by the entire cast, and a particular performance by Tom Cruise that I shall not easily forget! "Jerry Maguire" not only has heart, conviction, and it's own "stamina," but it tells a dry story as if it were the first time it had ever been told. This is one of the greatest films of all time in my book, and will be forever. This is a true classic!
Jerry Maguire Quotes
| | |
| --- | --- |
| Jerry Maguire: | Towel? |
| Rod Tidwell: | Naah, I air dry |
| Rod Tidwell: | Nah, I air dry. |
| | |
| --- | --- |
| Rod Tidwell: | Show me the money! |
| | |
| --- | --- |
| Jerry Maguire: | I'll tell you why you don't have your $ million. You play for the money. You play with your head, not your heart. When you get on the field, it's all about what you didn't get. Who's to blame. Who's got the contract you didn't get. That is not what inspires people! Shut up! Play the game from your heart. Then I'll show you the kwan. And that's the truth! |
| Jerry Maguire: | All right, I'll tell you why you don't have your ten million dollars. Right now, you are a paycheck player. You play with your head, not your heart. In your personal life, heart. But when you get on the field it's all about what you didn't get. Who's to blame. Who won through the pass. Who's got the contract you don't. Who's not giving you your love. You know what, that is not what inspires people. That is not what inspires people! Shut up! Play the game, play it from your heart. And you know what, I'll show you the kwan. And that's the truth, man! That's the truth. Can you handle it? It's just a question between friends, you know. Oh, and when they call you 'shrimp,' I'm the one who defends you! |
| | |
| --- | --- |
| Jerry Maguire: | I am out here for you. You don't know what it's like to be ME out here for YOU. It is an up-at-dawn, pride-swallowing siege that I will never fully tell you about, ok? Help me... help you. Help me, help you. |
| Jerry Maguire: | I am out here for you. You don't know what it's like to be ME out here for YOU. It is an up-at-dawn, pride-swallowing siege that I will never fully tell you about, okay? Help me... help you. Help me, help you. |