Jersey Boys
(2014)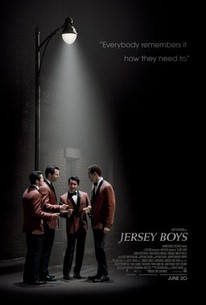 TOMATOMETER
AUDIENCE SCORE
Critic Consensus: Jersey Boys is neither as inventive nor as energetic as it could be, but there's no denying the powerful pleasures of its musical moments.
Movie Info
Clint Eastwood's big screen version of the Tony Award-winning musical tells the story of the four young men from the wrong side of the tracks in New Jersey who came together to form the iconic `60s rock group The Four Seasons. Their trials and triumphs are accompanied by the hit songs that influenced a generation, and are now being embraced by a new generation of fans through the stage musical.(c) Warner Bros.
Critic Reviews for Jersey Boys
Audience Reviews for Jersey Boys
A dull, uninvolving and derivative biopic full of the clichés that Eastwood has by now become an expert on, and it doesn't give us any reason why this story deserves to be told or what makes those characters remotely interesting besides Frankie Valli's voice.
Carlos Magalhães
Super Reviewer
½
Though there is little in the way of directorial ingenuity, Clint Eastwood's "Jersey Boy" is a delightfully light (R-rated) musical biopic following the quick rise and slow burn demise of the Frankie Valli fronted "The Four Seasons." Though Eastwood's film is too long and feels a little like Scorsese-light (especially in it's earliest moments), the performances are on point. I liked the cast, the musical numbers, and the largely rudimentary biographical drama. It hasn't dethroned the stage play by any stretch of the imagination, and Eastwood's cut-and-paste approach to directing this material is disappointing. However, "Jersey Boys" is old fashioned storytelling that I had no problem getting behind based on it's strengths and infectious soundtrack.
It's clear that Clint Eastwood doesn't understand the first thing about making a musical. He grossly mishandles the source material. What made the original such a joy was the wonderful plethora of hit songs from the Four Seasons, not the generic Behind the Music-style story. Eastwood highlights the weakest aspects of the play while de-emphasizing the music. The elephantine length clocks in at 2 hours and 15 minutes, but it feels twice that long. It is a laborious chore to sit through. It's a full hour before we even hear a recognizable Four Seasons song. Granted the singing is the best part. That's because the music is inherently good. But the musical numbers are realized with all the excitement of a trip to the dentist. They should be lively and innovative. Instead the actors come out, hit their mark, sway while they sing and leave. This is a movie for goodness sakes. You could do things here with color, lights, effects, to punch up the production that you can't on the stage. Music videos take advantage of this fact, why can't this movie? There's one example of that spirit in the whole picture. It happens at the end as they are rolling the credits. Oh what Bill Condon or Baz Luhrmann could have done with this material. fastfilmreviews.com
Mark Hobin
Super Reviewer
Jersey Boys Quotes
| | |
| --- | --- |
| Bob Gaudio: | I never heard a voice like Franki Valli's. After eight bars, I know I need to write for this voice. |
| | |
| --- | --- |
| Frankie Valli: | Family is everything |
| Tommy DeVito: | My hand to God, they will throw you out in 12 seconds. |
| | |
| --- | --- |
| Angelo "Gyp" DeCarlo: | I know you don't like me, but let's kill Batman! |