Jersey Girl
(2004)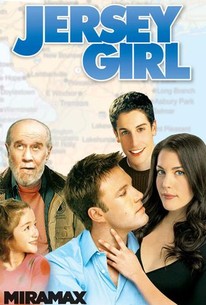 Movie Info
Ollie Trinke is at the top of his game. A smooth, Manhattan music publicist, Ollie has just married the love of his life and has a child on the way. It's a perfect lie that is tragically upended when he suddenly finds himself a single father unqualified for his new role. Before long Ollie's big city lifestyle clashes head on with fatherhood. After losing his job, he's forced to move back in with his father in the New Jersey suburb where he was raised. With the help of a beautiful young friend who opens him up to love again, and a daughter who gives him the courage to keep going, he begins to realize that sometimes, you have to forget about what you thought you were and just accept who you are.
News & Interviews for Jersey Girl
Critic Reviews for Jersey Girl
Audience Reviews for Jersey Girl
Some may argue that it has a heart (and it does), but it also has too many clichés - including a heavy-handed soundtrack that always makes plain explicit what Affleck's character is feeling -, and it doesn't help that his relationship with Liv Tyler's is so forced from the get go.
Carlos Magalhães
Super Reviewer
Surprisingly sweet natured.
½
Jersey Girl is a very different film for Kevin Smith and is quite refreshing due to the fact that he mostly made View Askew films (Clerks, Mall rats and Jay and Silent Bob Strike Back). This is a good movie that is one of Kevin Smith's best films. The cast do a fine job here and Affleck really gives a good performance here. The chemistry between him and Liv Tyler is great and they really light up the screen. The plot is good, and it took me by surprise. Smith's direction is wonderful, and he can craft a film that has heart, humor and original ideas. I feel that the film proves that Smith can do something different, instead of the usual Jay & Silent Bob material that we've seen in many of his previous directorial outings. If you love Kevin Smith and want something different, then Jersey Girl is his most refreshing film since Chasing Amy. This is an underrated film that has plenty of good moments to spare, and is very entertaining from start to finish. This is a well crafted film that is worth seeing if you are a fan of Kevin Smith. I think that this is an overlooked film for Kevin Smith, and it doesn't' deserve the flack it has received. George Carlin makes the film worth seeing and he brings his unique sense of humor to the mix, which adds an additional dimension to the film to make it that much more engaging. Jersey Girl has its flaws, but is definitely not a bad movie. If you've never seen this film and love Kevin Smith's work, then you owe it to yourself to check this one out.
Jersey Girl Quotes
There are no approved quotes yet for this movie.