Jesse James
(1939)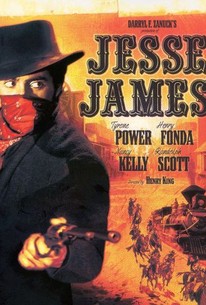 AUDIENCE SCORE
Critic Consensus: No consensus yet.
Movie Info
The real Frank and Jesse James were murderous thugs, light years away from the Robin Hood image imposed on them by revisionist dime novelists. But in 1939, 20th Century-Fox wasn't about to build an expensive Technicolor feature around the exploits of a couple of low-lives, thus Jesse James upholds the mythos, offering us the standard whitewashed version of the James boys. According to Nunally Johnson's irresistibly entertaining screenplay, Jesse (Tyrone Power) and Frank (Henry Fonda) become train and bank robbers to avenge the death of their mother (Jane Darwell), killed at the behest of greedy railroad interests. Once he feels his work is done, Jesse settles down to a life of marital domesticity--only to be shot in the back by cowardly Bob Ford (John Carradine). Frank James is left alive at film's end, paving the way for the 1941 sequel The Return of Frank James. Director Henry King stages the action sequences in glorious outsized fashion, notably the famous bank-robbery scene in which Jesse rides his horse through a plate glass window. The scenes involving both James brothers are stolen hands-down by Henry Fonda, not so much because he was a better actor than Tyrone Power but because his character had all the best lines. Jesse James was filmed largely on location in Missouri, resulting in crowd-control nightmares for the picture's beleaguered assistant directors. ~ Hal Erickson, Rovi
News & Interviews for Jesse James
Critic Reviews for Jesse James
All Critics (3) | Fresh (2) | Rotten (1)
'Jesse James' has rich-looking production values and a story to tell that borders on the mythic . . . or the demythologized. In this, the filmmakers couldn't decide.
Audience Reviews for Jesse James
Henry Fonda is great as Frank James, and Tyrone Power is at his peak.
Anthony Valletta
Super Reviewer
the first flick done upon the notorious legend of jesse james, and colors are saturated pleasantly in technicolor which really emphasizes on tyrone power's gorgeous face as well as the young henry fonda. but power's jesse james is never convincingly masculine as a ruthless crime boss who is fueled intensely by the avengeful drive. his jesse james is more like a suavely polished gentleman who is compelled to revolutionalize against the unjust capitalist of railroad. perhaps henry fonda would be more appropriate as jesse james with his southerner idiosyncracy. the later half of jesse james growing susceptibly cranky with appetite for violence particularly flops. there's no robbery scene actually shot but a remorseful james mourns for the lost trace of his newborn son. there's no rawness or urgent desperation in power as an outlaw. the film only shows the first crime the gang does by politely asking purses from the train passengers and their disastrous last bank-robbery which is not ballistically depicted. also the romance of jesse james takes the majority of the whole movie as the central wheel that is not well-strategied. it's strongly romanticized but does the audience feel moved by this affair? certainly not, it's more like trivial event of a genteel commoner who still deems conventional virtues. as a matter of fact, tyrone power impersonates his jesse james in the exact manners as he does in his constumed swashbuckler flicks. audience who goes for jesse james are men with penchant for the outrage of crude manhood, a sort of populist idolization in the field of male icon, and they certainly feel enviously reluctant to watch an aristocratic tyrone power de-masculinizes jesse james with his distinguisged male beauty which outshines them. maybe the sequel "the revenge of frank james" directed by fritz lang has more prospect to look forward. and the only stirring sensation "jesse james" could have caused would probably be the pioneering alert of animal protection in cinema history since the production of this flick accidentally costed a life of one horse which seems even more consequential than "jesse james" itself.
Veronique Kwak
Super Reviewer
A hugely entertaining version of the story, nicely shot in early Technicolor. Considering the size and weight of the cameras in those days, the use of real backgrounds in the posse chases is commendable and impressive. The second half, where the story takes a more serious turn, is less fun, but the film stands up very well.
Jesse James Quotes
There are no approved quotes yet for this movie.