Jesse James Meets Frankenstein's Daughter
(1965)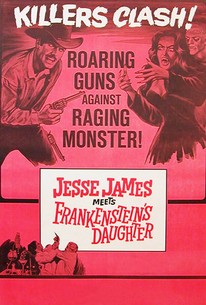 Jesse James Meets Frankenstein's Daughter Photos
Movie Info
William "One Shot" Beaudine's companion piece to the equally nonsensical Billy the Kid vs. Dracula represents a memorable closing to the eccentric "Z"-movie auteur's amusing body of work. The hare-brained concept finds the legendary outlaw Jesse James (John Lupton) stumbling into the decrepit lair of Maria Frankenstein (Narda Onyx) -- not the daughter but the granddaughter of the infamous monster-making Baron. Maria is, of course, following in Grandpa's footsteps by creating a creature of her own, transplanting the dormant but still-intact brain of Frankenstein's original monster into the body of one of James' cohorts. The lumbering, homicidal monster -- imaginatively dubbed "Igor" -- begins terrorizing townsfolk until the inevitable showdown between living and undead gunslingers. Though not as flamboyantly awful as its predecessor (mainly due to the absence of John Carradine), this is still worth a look for trash-movie completists.
Critic Reviews for Jesse James Meets Frankenstein's Daughter
Audience Reviews for Jesse James Meets Frankenstein's Daughter
Anthony Valletta
Super Reviewer
Jesse James Meets Frankenstein's Daughter Quotes
There are no approved quotes yet for this movie.