Jesse Stone: Night Passage
(2006)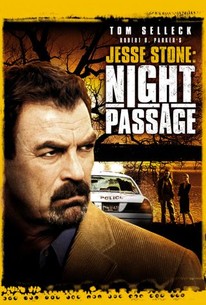 AUDIENCE SCORE
Critic Consensus: No consensus yet.
Jesse Stone: Night Passage Photos
Movie Info
Tom Selleck returns to the role of small-town police chief Jesse Stone in this prequel to the CBS TV movie Stone Cold. Having been booted from the LAPD for drunkenness (brought on by his divorce), Stone heads to tiny Paradise, Massachussetts, where through the auspices of local banker Hastings Hathaway (Saul Rubinek) he is appointed chief of police. His first assignment is to investigate the murder of his predecessor Lou Carson (Mike Starr), whose death may or may not be tied in with a local domestic-abuse case involving minor mob functionary Jo Jo Genest (Stephen Baldwin). Although his new staff has a lot of trouble dealing with Stone's eccentricities--not least of which is insisting upon taking his pet dog Boomer wherever he goes--Jesse gradually wins them over. Along the way, he also tries to melt the heart of his staunchest adversary, attractive attorney Abby Taylor (Polly Shannon--all the while fending off the advances of banker Hathaway's libidinous wife Cissy (Stephanie March). Based on a novel by Robert B. Parker, Jesse Stone: Night Passage was originally telecast on January 15, 2006. ~ Hal Erickson, Rovi
Critic Reviews for Jesse Stone: Night Passage
There are no critic reviews yet for Jesse Stone: Night Passage. Keep checking Rotten Tomatoes for updates!
Audience Reviews for Jesse Stone: Night Passage
½
For those unfamiliar, Jesse Stone is the legendary, fictional, Police Chief in the small town of Paradise, Massachusetts, created by Robert B. Parker. The Jesse Stone franchise has spawned over a dozen novels and eight feature films. While being the first book in the series, strangely enough, Night Passage was the second movie shot, and the third one released. It seems odd, but Night Passage is more of an introduction to the character and the town. If this were a TV series, it would have been the pilot, but when you're trying to start a film franchise, you want to start it off with a film that hits harder and is more memorable, the way Stone Cold was. As for Night Passage, it introduces audiences to Jesse Stone, as he leaves L.A. a disgraced homicide detective, with an alcohol problem, coming on the heals of a divorce. Stone drives across the country in hopes of taking over the seemingly easy job of being a Chief in a small town, but he quickly learns that Paradise is not your ordinary small town. Tom Selleck stars and was the obvious choice to play Stone, because the man has been playing a cop for almost forty years! Unlike many of those other Policemen, Stone is more withdrawn and uses his experience to take care of business, so he can go home to his dog and his alcohol. Each story centers around a crime, but also has a secondary story, Night Passage is no different as Stone must deal with a homicide, and a domestic situation that has torn a family apart. Similar to the other films, they get big names to co-star and in Night Passage we get Academy Award Winner, Viola Davis, and Stephen Baldwin. These guess stars, along with deep characters, and complex stories are the difference between the Stone films and a TV series. While Jesse Stone would transfer into a tremendous TV series, you wouldn't get the same feel that you do from the films. The world of Jesse Stone is a cold, dark one. He must do his job while battle his own demons at the same time. With a perfect leading man, coming from some very well written novels, the Jesse Stone films have been a treat, and Night Passage is where it all started. I'd highly recommend getting into the series, but watch the films in order of the novels, not in the order the films were released.
Todd Smith
Super Reviewer
½
I went in for the first part assuming it's a suspense TV movie. Turned out to be an okay thriller. So I sat for this expecting it to be a thriller. But this one was neither suspense, mystery nor any decent thrills. The performances are first-rate, and so are some dialogues, but the story lacks meat. Just a simple cop flick. Watchable, but not recommendable. I'll be going for further parts of Jesse Stone only if I'm running out of options desperately enough.
familiar stranger
Super Reviewer
Setting the dinner table for a long string of made-for-TV movies in this Robert B Parker novels-turned-movies, Tom Selleck is given free reign as Jesse Stone, an LAPD Detective who drinks himself off the job and out of town, only to turn up as the Police Chief of quiet little Paradise, Massachusetts. While getting acquainted with the town and the job, he investigates the murder of the outgoing Police Chief at the hands of a mob hitman also involving the crooked head of the city council. Selleck is just incredible as the tired and troubled Stone and that's probably why he's been given this line of films practically until he dies.
Derek Daniels
Super Reviewer
Jesse Stone: Night Passage Quotes
There are no approved quotes yet for this movie.