Jesse Stone: Sea Change
(2007)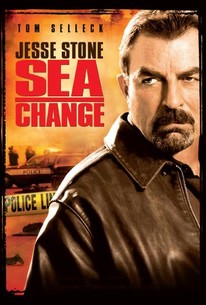 AUDIENCE SCORE
Critic Consensus: No consensus yet.
Jesse Stone: Sea Change Photos
Movie Info
The fourth installment of the Jesse Stone series finds restless New England police chief Stone (Tom Selleck) fighting boredom by attempting to solve a twelve year-old cold case involving a murdered bank teller. Jesse Stone is a transplanted L.A. cop who thrived on big city adrenaline, but ultimately buckled under the pressure. Exiled to Paradise after suffering though a nasty divorce and being busted for drinking on the job, Stone now leads a quiet life of writing parking tickets and trying to suppress the urge to cut loose with the booze and babes. When one of his officers out on maternity leave and the other recovering from a recent gunshot wound, Stone turns to some old cold cases to keep himself occupied. Twelve years ago, a local bank teller was killed in broad daylight. Though the gunman responsible for the crime was never brought to justice, Stone soon uncovers a crucial piece of evidence that went overlooked during the original investigation. Now, as this once-cold case gradually begins to heat up again, Stone continues his investigation into an alleged rape that tool place aboard a yacht during Race Week. ~ Jason Buchanan, Rovi
Critic Reviews for Jesse Stone: Sea Change
There are no critic reviews yet for Jesse Stone: Sea Change. Keep checking Rotten Tomatoes for updates!
Audience Reviews for Jesse Stone: Sea Change
Whodunit starring Tom Selleck. This one is pretty good. I didn't guess whodunit, and Tom seems to play himself - a somewhat washed up guy who still has what it takes and a bit of empathy as well.
½
What I love about the Jesse Stone novels is that you never know what you're going to get. Of course you know the characters, but some are intense and emotional, while others focus more on the mystery and small town politics. Sea Change was an interesting choice for the fourth film, as it shows a different side of Jesse and was somewhat unique among the other stories. Jesse Stone (Tom Selleck), was an L.A. Homicide Detective, who left to become a small town police chief in Massachusetts, after his life was thrown into chaos. Now that he's been there a while, he's come to realize that not a lot of things happen in a small town, and he's tired of writing parking tickets. Craving something to do, Stone decides to open the towns only unsolved murder. A body found in the woods, 20 years earlier. As he opens the investigation, it brings up the past, a past that the town of Paradise would like to forget. Sea Change plays more like a Cold Case or Criminal Minds episode than a typical Jesse Stone story, but what's unique about it, is that it really gives us a look inside Jesse's life. Tom Selleck was terrific as always, but he gives a particularly special performance in Sea Change. We finally see the man for what he is, driven by justice and living for the people. His job is his life and when there is nothing to do, he falls back into and becomes stuck in his past. Sea Change is also special as it was the novel that introduces us to the character of Rose Gammon, played by Kathy Baker. I haven't seen her in anything since Picket Fences and God did I love that show! It was really thrilling for me to see her again, and playing a character I really came to admire in the novels. Sea Change might not have the action that younger viewers crave in their police dramas, but it is a textbook example of how to solve a case and a unique look into the mind of one of the deepest characters I know. I loved the books and rarely do these types of stories translate well to film, but with a star like Tom Selleck you can't go wrong and I really did enjoy this film as much as I did the novel.
Todd Smith
Super Reviewer
½
probably the best so far going so far as to combine the mystery with the drama. tom selleck is a walking train wreack and he plays the role of Jesse Stone without remorse. The drinking and past demons are still keeping him isolated with he's pet dog. I have really started getting into this series thanks to the Harmon & Selleck team who are getting more comfortable each year. The story takes centre stage here and its the mystery that keeps Stone going while he's past haunts him. I really enjoyed this addition to the franchise and have fears that this might be the best of the lot since night passage. the support cast is superb as always with some interesting faces showing up. Its a shame Sadler doesn't get more screen time like Pigeon who is great as suffering woman looking after her ill mother. the only flaw is the finale which in all the films involves a shootout
Brendan O'Connor
Super Reviewer
Jesse Stone: Sea Change Quotes
There are no approved quotes yet for this movie.