Jesse Stone: Thin Ice
(2009)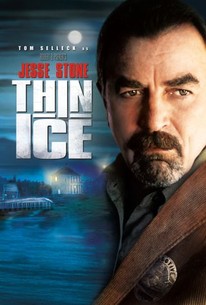 AUDIENCE SCORE
Critic Consensus: No consensus yet.
Jesse Stone: Thin Ice Photos
Movie Info
The fifth installment of the Jesse Stone franchise finds the Massachusetts police chief drawing the wrath of the Town Council after inadvertently being drawn into a shoot-out on the streets of Boston. Paradise, Mass. Police Chief Jesse Stone (Tom Selleck) has just been involved in a highly-publicized shoot-out that left his friend, State Homicide Commander Healy (Stephen McHattie), seriously wounded. As a result, the Boston Police Department's Internal Affairs division launches an investigation against Chief Stone, causing the dedicated lawman to be away from Paradise for extended periods of time and drawing unwanted attention from the Town Council. When Chief Stone fires the Paradise Police Department's most enthusiastic ticket-writer, the city's main source of revenue takes a serious hit. His status with the Town Council already faltering, the chief puts his own job in serious jeopardy by agreeing to help a celebrated out-of-towner search for her missing child. ~ Jason Buchanan, Rovi
Critic Reviews for Jesse Stone: Thin Ice
Audience Reviews for Jesse Stone: Thin Ice
Thin Ice is the fifth Jesse Stone film, and the first that didn't come directly from one of Robert Parker's novels. Parker didn't write this one, but Thin Ice is still every bit as gripping and mysterious as the other Stone stories. Since becoming the police chief in Paradise, Massachusetts, Stone has injected himself into local business and politics, discovering a lot of corruption, and a connection to organized crime. He's done a tremendous job, but the town council is very upset with him. All these arrests and headlines have put Paradise on the front page, and it has taken it's toll on the towns main source of income, tourism. The town council tells Stone he has to tone it down or risk losing his job. In typical fashion he response by telling them, "you can fire me, but you can't tell me what to do." An upset Stone, heads to Boston to have dinner with his friend, the state homicide commander, when a mysterious shooter tries to take them both out. Now Stone is in the middle of another headline grabbing investigation that's become personal. As always Tom Selleck is terrific and pairing him Picket Fences' Kathy Baker has only made the film series that much more enjoyable for me. Every film has two mysteries that feature Stone right in the middle of the action. Thin Ice being written by a different person, shows Stone as edgier and more sarcastic, something that was interesting to see. I've read most of the novels and know the character of Jesse Stone very well, and to see him exhibit different personality traits, in an extreme situation, really was a treat for me. If you're not familiar with Jesse Stone, you should take the time to do so. He is one of the most complex characters I have ever come across and he's played by the absolute perfect choice, Tom Selleck. The man has been playing a cop for nearly 40 years and has learned a thing or two about what it takes to lead audiences through an investigation. Thin Ice was definitely a change in direction, but it works, as even in it's fifth installment, Jesse Stone is still every bit as good as it ever was.
Todd Smith
Super Reviewer
another great Jesse Stone film and probably the best slowburning cases yet. The film lacks the firework confrontation but that is for the best. This addition to the series begins with a bang leaving Stones friend in hospital and himself with a bullet wound. Selleck is great once again and this is great character study especially the finale twist which I didn't see coming. Its interesting to see a franchise still willing to allow character development when its mid way through the series. If you enjoy a slowburning thriller then these films are for you, I hope they continue to push the boundaries of the detective tv thrillers because I'm enjoying these more and more
Brendan O'Connor
Super Reviewer
The film starts off with a bang as Stone and Captain Healy get shot during a rainy stakeout in Boston. When he gets back to Paradise, Stone then has to answer to the city council concerning his firing of D'Angelo and to IAB about the violence and multiple shootings in the town. All while solving a 7-year old kidnapping and trying to figure out the shooting that almost killed him and the captain. The film retains its aggressive demeanor towards the crimes and especially the future of Stone, who is facing suspension from the city council.
Derek Daniels
Super Reviewer
Jesse Stone: Thin Ice Quotes
There are no approved quotes yet for this movie.