Jesus' Son
(1999)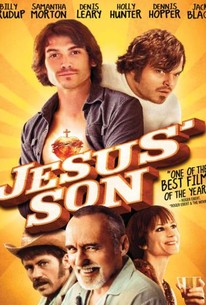 Movie Info
JESUS' SON is the intense, edgy, often hilarious story of a young man's circuitous journey from drug dependency and petty crime to a life redeemed by this startling discovery of compassion. The story is set in the drug subculture of the 1970's, and it's protagonist -- a young man in his twenties -- careens through his days getting stoned, stealing, or scamming a quick buck. Through it all, he tries to make sense of the mutually destructive passion he shares with a beautiful woman named Michelle. He is also driven by an overwhelming desire to help those around him, so save them from their often-sorry fates, but he repeatedly fails. (He certainly fails with Michelle). Almost by a miracle, redemption does come to him. It sneaks up on him almost imperceptibly, through barely observed lessons learned from a colorful parade of characters who range from a crazed, pill-popping hospital orderly, who takes more drugs than he dispenses; a down-on-his-luck-divorce whose only revenge against misfortune is to destroy the snug suburban home he used to share with his wife; to a half-paralyzed woman he meets in rehab who teaches him about love (and who proves to be a surprisingly nimble dance partner). Whomever he meets and wherever he goes, his attempts to prove his worth are either oddly touching, farcically futile or often both simultaneously. Bit by bit, however, he stumbles towards sobriety and lands a job at an assisted living facility where he discovers the depths of his own compassion for others, and the grace that comes with it. He also begins to write the hospital newsletter, providing him a creative outlet for his earned observations about life, love and loss.
News & Interviews for Jesus' Son
Critic Reviews for Jesus' Son
Audience Reviews for Jesus' Son
We are all his sons asshole!
Coxxie Mild Sauce
Super Reviewer
½
Jesus' Son is a really fun and hysterical movie about the adventures of a dope fiend. Of course, finding the movie fun may be completely missing the point but then again I've always been a fan of the random humor which is served up in abundance here. The story's told through a series of almost vignettes where the great cast (for the most part) only gets a few minutes to shine. The movie never glamorizes drug use but at the same time never really seems to go out of its way to not make it entertaining. If that makes any sense. Unfortunately, the movie (like most drug people I've known through the years) gets dull as hell once it sobers up. Which may or may not be the entire point of the movie. Great movie full of great moments with a great soundtrack.
Michael Gildea
Super Reviewer
Jesus' Son does great things with its titular character, the mysteriously unnamed Fuckhead. He is immensely likable - check out that winning smile and the off-kilter, observant humor - but his behavior is reprehensible. He is an idiot, but the kind of idiot who you're so close to that you want to help them rather than condemn them. The movie plays with your feelings toward FH, engaging you in a rollercoaster of frustration and pride. And when he gets hurt, it's like a punch to the gut. Billy Crudup's performance, in this way, is really remarkable. He oozes charisma and fun and gentle idiocy to the point where this film becomes a vignette in the life of that crackhead idiot you love to talk to at parties. Also notable is Samantha Morton, in a stunning, indelible performance brimming with risk. Michelle is a completely ugly character, but Morton sells her appeal against all odds.
Drew Smith
Super Reviewer