Jet Boy
(2001)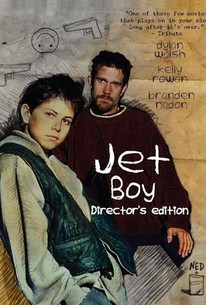 AUDIENCE SCORE
Critic Consensus: No consensus yet.
Movie Info
Dave Schultz' feature debut Jet Boy is a drama about a boy attempting to figure out his future. Nathan (Branden Nadon) goes on a search to find his father after his mother dies of a drug overdose. Nathan has been prostituting himself in order to get by when he befriends Boon Palmer (Dylan Walsh). In Dylan, Nathan sees his possible future. In Nathan, Dylan sees a chance to rectify his past. Jet Boy was filmed on location throughout Canada.
Critic Reviews for Jet Boy
There are no critic reviews yet for Jet Boy. Keep checking Rotten Tomatoes for updates!
Audience Reviews for Jet Boy
Jet Boy is a unique coming of age story, that turns out to be nothing like the description on the back of the box. Many people are going to find it somewhat disturbing, however, unlike similar coming of age stories, Jet Boy does ultimately have a point and it's something most people need to learn. 12 year old Nathan (Branden Nardon) lives in poverty with his mother and all he knows is sex, drugs, and violence, so it's no surprise that at the ripe old age of 12, Nathan is a male prostitute. Things change for him when he meets a man who wants something other than sex. The man wants Nathan to help him with a job, and shows the boy kindness for the first time in his life. Nathan thinks he's fallen in love with this man and makes advances, only to be rejected. From his experiences, Nathan will ultimately come to learn that sex and love are two very different things and that kindness, doesn't always mean what he thought it meant. This film was Branden Nardon's acting debut and what a job he did. Part of me questions how someone with no experience can put on a performance like that, while the other part wants to know what kind of parents allow their kids to do something like this. Nardon doesn't just show off his talent with this performance, but he also shows a fearlessness that could come from upbringing or immaturity. Jet Boy is thankfully no where near as graphic as a film as Mysterious Skin, but it still has a few scenes that aren't easy to watch. This film is strange and someone disturbing, but by comparison it does have a message, that similar films don't. The writer is telling audiences to be weary of people who are overly kind, but in the end it doesn't mean that they're looking for something. In it's own bizarre way, it's also saying that sex is sex, and sometimes it's about anything other than love. An impossible lesson to have to learn at such a young age, but that is the true meaning of the film. Nathan learns something at a very young age, that we should have all learned in our adolescents and he ultimately becomes a better person for it. Jet Boy isn't an easy film to watch and many people are going to be turned off by the sheer age of the actor involved, but I like how everything turned out in the end. I was also introduced to a terrific young talent, and I appreciated the fact that the film got it's message across without being overly explicit. Sometimes we need to leave our comfort zones to experience something different and get a message that we general don't think a whole lot about, and for that I do recommend this film.
Todd Smith
Super Reviewer
Jet Boy Quotes
There are no approved quotes yet for this movie.