Jewel Robbery
(1932)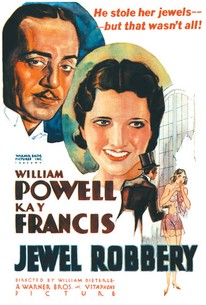 AUDIENCE SCORE
Critic Consensus: No consensus yet.
Movie Info
Conning the rich in charming Vienna, a professional gem thief charms a fabulously wealthy baroness into his calculating clutches but hasn't reckoned on the extent of her jealous husband's outrage. This romantic comedy comes from a stageplay which was also the basis of an earlier version made in Austria.
Critic Reviews for Jewel Robbery
All Critics (3) | Top Critics (2) | Fresh (2) | Rotten (1)
The erotic edge of looming danger, the sexual charge of a sure and confident touch, the thrilling distinction between true refinement and mere formality electrify this 1932 Hollywood drama ...
April 14, 2014
Today, its potency persists undiminished: The film delights as more than mere escapism.

A poor imitation of Lubitsch's classic romance/comedy Trouble in Paradise.
Audience Reviews for Jewel Robbery
½
This film is entertaining enough and has its moments. Kay Francis plays a rich woman who enjoys being pampered by her servants and expensive jewelry from her husband. While she's at a jewelers picking up her latest bauble (a 28 carat diamond ring), William Powell strolls in with his crew to lead a very leisurely, dignified robbery. Naturally, the pair make goo-goo eyes at each other, and she's happy when he's not caught. One of the amusing little pre-code laughs is Powell doling out marijuana cigarettes, not referred to by name, but which after a few puffs leave those partaking to get quite silly (and Powell warning that they'll be hungry afterwards). There's also a fair bit of playful innuendo mixed in, one example of which is her friend telling her of a robbery in which a woman was "stripped right down to her teddies," and that if it happened to her, she would "let the train go on," because "When I'm travelling at the rate of 80 miles per hour, I'm not responsible for my actions." It's made clear that Francis has just broken off one affair, and she says she leads a boring, shallow life in which her schedule is "In the morning a cocktail. In the afternoon a man." And Powell all but propositions Francis when he wants to hide out in her bedroom for an evening, saying that in the morning they'll have a "secret behind them." It's all very light though, and while director William Dieterle creates a near Lubitschean feel in the playfulness of it all, there's something a bit awkward and off in the film's pacing, and the dynamic between Powell and Francis. They're certainly better together in 'One Way Passage' from the same year, but this one's passable.
Antonius Block
Super Reviewer
Pre-code film about a debonair Jewel Robber (Powell of course) who robs jewelry stores and calms everyone down by giving them his special ciggerettes (Tickets to you Tim) and getting them high. Powell charms the pants off a Baroness and they fall in love. Not the best of Powell's films, but he so fucking charming and enjoyable to watch on screen it a must see if you are a Powell fan(Keith). The dope smoking is also enjoyable and Powell and Francis have a great repoir.
cody franklin
Super Reviewer
Jewel Robbery Quotes
There are no approved quotes yet for this movie.