Jews And Baseball: An American Love Story
(2010)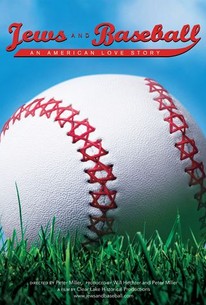 Jews And Baseball: An American Love Story Photos
Movie Info
JEWS AND BASEBALL: AN AMERICAN LOVE STORY explores the connection between Jewish Americans and baseball, our nation's most iconic institution. More than a film about sports, it is a story of immigration, assimilation, bigotry, heroism, the passing on of traditions, and the shattering of stereotypes "You should be an attorney or a doctor, but not a ballplayer," one former major leaguer remembers, describing the prejudices that he and other Jewish athletes faced. But despite the stereotypes, and in the face of hostility from fans and even violence from opposing players, there have been standout Jewish players in every decade from the 1860s to the present. JEWS AND BASEBALL is the first major documentary to tell their stories. Interviews include fans, writers, executives, and especially players - including Al Rosen, Kevin Youkilis, Shawn Green, Norm Sherry, Ron Blomberg, Bob Feller, Yogi Berra, and a rare interview with the legendary Hall of Fame pitcher Sandy Koufax. Fans Ron Howard and Larry King speak of the meaning of Jewish ballplayers in their own lives, while historians and even two baseball-loving rabbis relate the stories of Jewish players to the turbulent history of the last century. These powerful personal and historical stories are interwoven with an extraordinary collection of rare archival footage and photos, and a musical score ranging from Benny Goodman to Yo-Yo Ma to Rush. Dustin Hoffman narrates this engaging story of great drama, unforgettable games, and the broad sweep of American history. --© Official Site
Critic Reviews for Jews And Baseball: An American Love Story
Audience Reviews for Jews And Baseball: An American Love Story
½
"Jews and Baseball: An American Love Story" is a sweetly insightful documentary about, well, Jews and baseball.(See, that wasn't so hard, was it?) On a general note, it is also about ethnic groups assimilating into the United States upon their arrival, Jews being no different, fleeing oppression in their home countries. And is there anything more American than baseball? Well, as Maury Allen puts it, there is baseball in the bible with the phrase "in the big inning."(Ha! Get it? Seriously, I think "let there be light" could just as easily be about baseball.) And there have been Jewish ballplayers since the beginning but the first Jewish superstar was Hank Greenberg of the Detroit Tigers who combated anti-semitism and stereotypes on the field in the 1930's, while being a hero for Jewish fans, seeking affirmation in one of their own.(At the same time, Moe Berg was a major league catcher who accomplished much more in secret than he did on the playing field.) A lot of the documentary's attention is focused on Greenberg and Sandy Koufax. I knew a lot about Greenberg from a documentary of several years ago but little about Koufax's story. Today's Jewish ballplayers look back to those who paved the way for them as their parents paved the way into the suburbs. But it is also no longer just in front of the lights that Jews have made contributions to baseball with union organizer Marvin Miller and baseball commissioner Bud Selig having huge impacts in their own way.
Jews And Baseball: An American Love Story Quotes
There are no approved quotes yet for this movie.