Jim Thorpe---All American
(1951)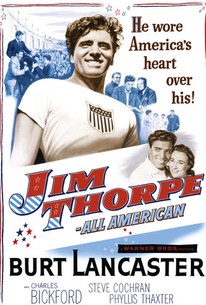 AUDIENCE SCORE
Critic Consensus: No consensus yet.
Jim Thorpe---All American Photos
Movie Info
Burt Lancaster stars as Jim Thorpe, the Native American sports whiz whom many consider the greatest athlete of the 20th century. We first see Thorpe as a child on the reservation, highly resistant to the notion of going to school. He proves to be an excellent student, eventually attending the all-Indian college in Carlisle, Pennsylvania. Still, Thorpe doesn't feel like mixing much with the other students until coach Charles Bickford encourages the lad to go out for the track team. Thorpe finds that he can be more "articulate" as an athlete than as a scholar, and soon excels at all school sports. He also marries his college sweetheart, non-Indian Phyllis Thaxter. After graduation, Thorpe tries to get a coaching job, but is frozen out by the white establishment. Determined to make a name for himself, he enters the 1912 Olympics at Stockholm, where he earns more gold medals than anyone else and is praised as the world's greatest athlete by the King of Sweden. Unfortunately, the fact that Thorpe briefly played semi-professional baseball while attending Carlisle costs him his amateur status--and every one of his medals. Things go from bad to worse for Thorpe after this; his son dies, his marriage disintegrates, and he crawls into a bottle. Thorpe has hit rock bottom when he is reunited with his old coach Bickford, who offers Jim a ticket to the 1932 Olympics in Los Angeles. It is the first small step on the road to regeneration for Jim Thorpe (alas, real life was not so kind; Thorpe died in near-poverty, and it was not until years after his death that his Olympic medals were restored). Jim Thorpe, All American was directed by Michael Curtiz, who previously had secured small acting roles for the real Thorpe in such films as Knute Rockne: All American (1940).
Critic Reviews for Jim Thorpe---All American
All Critics (1) | Fresh (1) | Rotten (0)
Burt Lancaster in a rather slow but interesting bio... physically at least, [he] re-creates the mighty Thorpe with considerable vividness...
Audience Reviews for Jim Thorpe---All American
burt lancaster's socially conscious in this making-it-despite-all-the-lousy-breaks (and people)-against-yah pass of time that's as politically correct as the time it was made. thank goodness this society's improved it's relationship with native americans nowadays, yessir!
Kevin M. Williams
Super Reviewer
Jim Thorpe---All American Quotes
There are no approved quotes yet for this movie.