Jiminy Glick in Lalawood
(2005)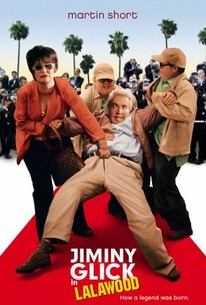 Jiminy Glick in Lalawood Photos
Movie Info
The world's most obnoxious celebrity talk-show host demonstrates how he rose to mediocrity in this pungent show business satire. Jiminy Glick (Martin Short) is a corpulent entertainment reporter who is looking to kick his career into high gear. Hoping to snag some celebrity interviews, Jiminy and his wife, Dixie (Jan Hooks), head north of the border to Canada, where Jiminy will attend the Toronto Film Festival. At first, Glick's attempts to ingratiate himself with stars and semi-stars are little short of disastrous, but after the easily star-struck reporter allows egocentric filmmaker Ben DiCarlo (Corey Pearson) to shamelessly self-promote his latest project on air, word gets around that Glick is an "easy interview," and his star begins to rise. However, Jiminy's good fortune is tempered by his unwitting involvement in a murder plot centered around booze-addled actress Miranda Coolidge (Elizabeth Perkins) and her wildly pretentious husband, Andre Devine (John Michael Higgins). Somewhere along the way, filmmaker David Lynch (played by Short) happens along, offering his theories on the controversial murder of Lana Turner's paramour Johnny Stompanato. A large number of Hollywood celebrities make cameo appearances in Jiminy Glick in La La Wood, including Steve Martin, Kevin Kline, Susan Sarandon, Whoopi Goldberg, Forest Whitaker, Kiefer Sutherland, and Sharon Stone.
Critic Reviews for Jiminy Glick in Lalawood
Audience Reviews for Jiminy Glick in Lalawood
½
This character does much better in 5 minute increments as opposed to a whole show - let alone a full-length movie! Martin Short is funny, but this is something that I have a short attention span for.
Sarah Prisbylla
Super Reviewer
½
While I find this Martin Short character somewhat ammusing in small doses...I wasn't sure how he'd hold up through an entire film. But being a HUGE Jan Hooks fan and having heard about all of the David Lynch refrences and parodies involved I was intrigued enough to DVR it. There are several moments of true hilarity sprinkled throughout. Most of the really ammusing stuff (for me) usually involved either Jan Hooks or the David Lynch refrences. There are also several ammusing celebrity interviews and a few good "jabs" at Hollywood, which (as a film fan) you can't help but appreciate. But, for the most part this was mostly just silly, sophomoric, self-indulgent, fluff. Which is not an entirely bad thing (every now and again), provided you go into it knowing/expecting as much.
I like the Jiminy Glick character created by Martin Short. The skit becomes tired when stretched to movie length. It was funny how he was annoying all the celebrities with his overbearing personality. Good makeup effects on Martin Short. It was interesting how it was told in Hollywood expose style.
Lafe Fredbjornson
Super Reviewer
Jiminy Glick in Lalawood Quotes
There are no approved quotes yet for this movie.