Jimmy and Judy
(2006)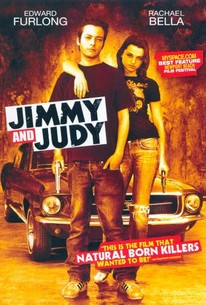 Movie Info
A pair of violent young lovers armed with a video camera and plenty of attitude take flight as directors Jon Schroder and Randall K. Rueben instill Natural Born Killers sentiment with a heaping helping of Blair Witch Project style. Judy (Rachael Bella) is a high school outcast who just can't seem to shake her bullies. Jimmy (Edward Furlong) is a recently de-institutionalized suburbanite with a serious video camera obsession. Though Judy is at first unimpressed by Jimmy's reckless rebel attitude, her option soon shifts when the unstable newcomer captures himself on camera delivering a little vigilante justice to her unrelenting tormentors. Tragedy soon strikes, however, when the increasingly unpredictable Jimmy accidentally kills a cop, and the frightened pair are send fleeing into a remote commune presided over with Manson-like fervor by the malevolent Uncle Rodney (William Sadler).
Critic Reviews for Jimmy and Judy
Audience Reviews for Jimmy and Judy
½
Since gaining popularity as a young John Connor in Terminator 2, Edward Furlong has done a whole string of B-movies. Jimmy & Judy is one of the lesser known direct-to-video films he's done and with good cause. From the cover this film looks like some modern version of Bonnie & Clyde and it's from the writers behind Natural Born Killers, so I was expecting good things. My hopes for a good film were immediately dashed when I found out that this low budget film was shot by the actors holding camcorders. I know some people love these types of films, but the constant movement just makes me sick. If that wasn't bad enough, as it turns out the story has basically no plot, as the story follows Jimmy's courtship of his parents friends daughter. The whole first half of the movie features a ton of sex and nudity and plays like a really high end porno, from there the story gets a little better, but not by much. It's your typical boy and girl falling in love in a matter of days and stick together no matter what happens. The performances are as sloppy as the actors amateur camera work, Eddie Furlong is one of my favorite actors, but he really had nothing in this film, it was lazy, sloppy, and just really didn't keep my interest. There's a funny scene here and there and most of us wouldn't say no to some gratuitous nudity, but this film just never came together as anything more than a bunch of shaky home movies pasted together, you really won't be missing anything by skipping this film.
Todd Smith
Super Reviewer
Shawn Montague
Super Reviewer
An interesting movie, but a little on the creepy side. Anything for love, well now, that's interesting. Edward Furlong is an interesting character.
Jimmy and Judy Quotes
There are no approved quotes yet for this movie.