Jimmy Neutron - Boy Genius
(2001)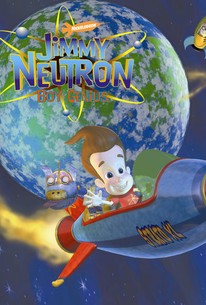 Jimmy Neutron - Boy Genius Videos
Jimmy Neutron - Boy Genius Photos
Movie Info
This animated feature from Nickelodeon is the story of ten-year-old genius inventor Jimmy Neutron, whose penchant for gadget-creation gets him and his robot dog, Goddard, into trouble at home and school. However, when the parents of Jimmy's hometown are kidnapped by the gooey green aliens known as Yokians, it's up to Jimmy, his best friend, Carl Wheezer, and his arch rival, Cindy Vortex, to rally their fellow kids for a rescue effort. Patching together a ragtag armada of interstellar spacecraft, the kid invasion force sets out to rescue the moms and dads who love them and get them home in time for dinner. Jimmy Neutron: Boy Genius (2001) features the vocal talents of Debi Derryberry, Carolyn Lawrence, Rob Paulsen, Martin Short, Andrea Martin, and Patrick Stewart.
News & Interviews for Jimmy Neutron - Boy Genius
Critic Reviews for Jimmy Neutron - Boy Genius
Audience Reviews for Jimmy Neutron - Boy Genius
Two days ago, I sent my fellow RT friends a list of films I wanted to review and this was one of them. This got the most requests so now I'm here reviewing it. "Jimmy Neutron" is a film that I enjoy everytime I see it. I saw twice in the theaters and was a avid watcher of the TV series that spawned from this. Jimmy Neutron is a very intelligent 4th grader who sends a message to some extraterrestrials wanting to know more about our planet that we they know what to expect when they invade it. When the aliens learn about Earth's large supply of parents, the kidnap them and are about to use them as a sacrifice to a god named Poultra. When the kids are informed on this, Jimmy takes the children of Retroville (funny name) out into the far reaches of space to reclaim their mommies and daddies. The film dosen't have the best when it comes to the plot. Its a kids movie financed by Nickelodeon so you shouldn't expect greatness. But Nickelodeon did acheive greatness last month with "Rango". Its a kids movie with a kiddish premise. Children looking for their parents. We've seen this at least once in our movie-watching days. But wheter you're a kid or adult, there has to be something in this film that elates you. Could it be the robotic dog, the pop soundtrack, or Jimmy's ecstatic fanboy friend, Sheen? It has to be either one of those. While the premise is silly, the film is witty, charming, and has many moments plus funny lines. The film has a good script. The film's animation is done by O Entertainment. The ones who did "Barnyard" and those Thumbnation short films like "Bat Thumb" "Thumb Wars" and "The Blair Thumb Project". They were the ones who introduced us into the animation technique where you can put the voice actor's voice into an object (i.e. "The Annoying Orange"). But when it comes to a full-length computer animated films, they don't reach the highest standards. But I think the animation was acceptable for its time. Many studios at the time of this film's release try to recreate the success of Pixar's films. If this movie came out around today, I probably would be disgusted by the visuals. The voice acting and characters were very funny. Jimmy is always fun, Carl is very likable, Sheen is hilarious, Cindy is funny, etc. The characters are mostly voice by voice actors from cartoons but we do get some A-listers. Patrick Stewart is pretty funny as the alien king and Martin Short as well. He was funny also. We also get cameos from the two host from "Entertainment Tonight" and that is pretty funny as well. Lastly, the soundtrack. It was mostly 90's and early 2000's pop from Aaron Carter and The Spice Girls. Catchy tunes but nothing special. You either enjoy this or dislike it. It isn't love it or hate it. I really enjoy it because I love good animated films. Its funny, well paced, and memorable. But it just depends on how you act towards it. One of my faves. Thanks for all your requests, guys. I had fun reviewing this. "My clothes don't match, my clothes don't match. I'm out in public and my clothes don't match!"
Bentley Lyles
Super Reviewer
As a kid, this was my life. This movie is so entertaining for kids and has a great story. Grade: B+
Matt Goodman
Super Reviewer
The animation is great, the comedy was great, the acting was great, and the TV show was great
Michael Edwards
Super Reviewer
Jimmy Neutron - Boy Genius Quotes
There are no approved quotes yet for this movie.