Jimmy the Gent
(1934)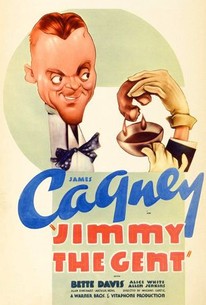 AUDIENCE SCORE
Critic Consensus: No consensus yet.
Movie Info
James Cagney runs a shady missing-heir tracing service, occasionally providing phony heirs in order to collect his fee. He suffers a tinge of jealousy when he takes a gander at the offices of a legitimate tracing firm, where his former girlfriend (Bette Davis) has taken a job. Jimmy soon learns that the reputable organization's boss (Alan Dinehart) is more crooked than Jimmy ever was, but he can't convince the girl of this fact. Using his own street smarts, Cagney exposes the "honest" heir tracer and agrees to go straight if his girl will come back to him. At the time Jimmy the Gent was filmed, James Cagney was getting tired of the formula pictures being handed him; rather than go on suspension, he expressed his displeasure by shaving his hair almost down to the bone, which is why he appears in this film with an uncharacteristic buzz-cut.
Critic Reviews for Jimmy the Gent
All Critics (2) | Fresh (2) | Rotten (0)
Jimmy Cagney giving a magnificently tough performance in what is basically one of the most immoral pictures of the year and also one of the most entertaining. Heartily recommended for the unethical.
Audience Reviews for Jimmy the Gent
½
What does it say about the Depression that films from this era so often had scenarios where one could get rich quick, and in some highly improbable way? Maybe itâ(TM)s like the lotto fantasy of todayâ(TM)s world of wealth disparity, and the more we see these types of schemes, the bigger underlying problem we have. Anyway. In this one, the premise is a pair of rival companies of â~genealogistsâ(TM) who take advantage of cases where a rich person dies suddenly and without a will, finding their heirs for a cut or producing phony ones. Rich people die without wills all the time right? James Cagney plays the leader of one of the firms, and Alan Dinehart the other. Bette Davis is Dinehartâ(TM)s main assistant, having worked for Cagney before and leaving him for a lack of ethics. He protests, saying that all businessmen are crooked, and that âthere's only two kinds of guys in business - those who get caught and those who don't!â? Itâ(TM)s a cynical view, but perhaps justified, especially in times when unchecked capitalism and corporate greed lets us down. Regardless, the two are an interesting contrast; Cagney is coarse and slaps his assistant (Allen Jenkins) around, whereas Dinehart is refined and serves proper English tea in the office. The premise is silly, but the way Cagney plays his con is clever. It involves a character played by Alice White and I was happy to see her, but itâ(TM)s unfortunate she was so ditzy. Bette Davis is sharp and engaging though, and more than makes up for this, and at the end of the day, there is more than enough charm in seeing her and Cagney in this minor film of theirs to make it interesting.
Antonius Block
Super Reviewer
½
Jimmy is incredibly charismatic in this making the rather preposterous story work. This was early in Bette's career and while flashes of her spark shine through she looks frightful in a rigid Jean Harlow hairdo and pencil thin brows.
½
it's fun but cagney is almost a parody of himself here
Stella Dallas
Super Reviewer
Jimmy the Gent Quotes
There are no approved quotes yet for this movie.