Jingi naki tatakai: Hiroshima shito hen(Battles Without Honor and Humanity: Deathmatch in Hiroshima)
(1973)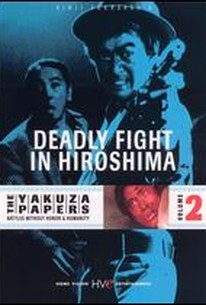 AUDIENCE SCORE
Critic Consensus: No consensus yet.
Movie Info
Bunta Sugawara returns as Shozo Hirono in this sequel to the acclaimed yakuza film Jingi Naki Tatakai (aka The Yakuza Papers: Battles Without Honor and Humanity). Hirono, now dug deep into a Japanese crime family based in Hiroshima, finds a new adversary in the person of Katsutoshi Otomo (Sonny Chiba), a ruthless killer who is willing to do anything to promote his family's interests. Meanwhile, Shoji Yamanaka (Kinya Kitaoji) is an ambitious criminal who quickly scales the hierarchy of the Muraoka family, but his fall proves as sudden as his ascent. Jingi Naki Tatakai: Hiroshima Shito Hen (aka The Yakuza Papers 2: Deadly Fight in Hiroshima) was followed only a few months later by the third film in Kinji Fukasaku's Yakuza Papers series. ~ Mark Deming, Rovi
Critic Reviews for Jingi naki tatakai: Hiroshima shito hen(Battles Without Honor and Humanity: Deathmatch in Hiroshima)
All Critics (1) | Fresh (1) | Rotten (0)
"Hiroshima Death Match" is probably the most commercial film of the pentalogy, but fans of exploitation will have more fun with it than for any of the other segments, and that is where its foremost value lies.
Audience Reviews for Jingi naki tatakai: Hiroshima shito hen(Battles Without Honor and Humanity: Deathmatch in Hiroshima)
The second film in the Yakuza Papers series is not as good as the first because the violence and general shoot-em-up plot got a little tiresome at times. However, the style of the film , the soundtrack, the excellent editing, and Bunta Sugawara's presence as Shozo Hirono kept me engaged. I simply love Fukasaku's exciting pacing and continued experimentation with the camera. What keeps me wanting to watch more is the connections that freeze frames containing dates and names make between fiction and reality. A memorable scene is the killing of Tokimori with the envelope slipped halfway between the door, when he reaches for it, Shozo's man is signalled by the envelopes movement and he shoots Tokimori. I was not drawn into or interested in following Kinya Kitaoji as Shoji Yamanaka or Sonny Chiba as Katsutoshi Otomo compared to the first film where I was really glued to the screen watching Hirono, Sakai, and the pathetic Yomomouri. The love story between Yamanaka and Yasuko added a different feel to the film rather than it just being about sheer violence and murder, but after a while it turned contrived and formulaic. The highlights of this film were: Matsunaga and the increased involvement of the police.
More double crossing as the series continues with a number of different families trying to stake their claim. Sonny Chiba was enjoyable as an angry underboss out to get what's his along the way. This one throws Meiko Kaji (Lady Snowblood) into a love story which fits right in and helps with character development. Even though a lot of characters come and go, they're all strong and memorable. Any fan of the gangster genre should give Yakuza Papers a view.
El Hombre Invisible
Super Reviewer
½
Fukasaku, Chiba and Bunta in an awesome yakuza flick that I may like a little better than the original. This one focuses more on a yakuza who is doomed to tragedy while Chiba plays a psychopath rival. Excellent film.
Christopher Brown
Super Reviewer
Jingi naki tatakai: Hiroshima shito hen(Battles Without Honor and Humanity: Deathmatch in Hiroshima) Quotes
There are no approved quotes yet for this movie.