Joe
(1970)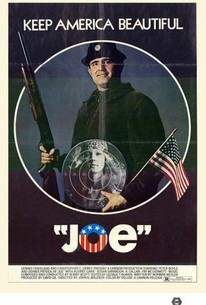 Movie Info
Peter Boyle delivers a strong and raw performance as Joe Curran, a racist factory worker who hates "hippies and blacks." The film deals with New York City advertising executive Bill Compton (Dennis Patrick), who kills Frank (Patrick McDermott), the junkie lover of his daughter Melissa (Susan Sarandon, in her film debut), when she ends up in a mental hospital after suffering an overdose of speed. Stunned by his rage, Bill goes into a bar and comes upon Joe, who discovers the murder and holds Bill in great esteem for his killing of the long-haired drug pusher, congratulating Bill on a job well done. The two begin a class-spanning friendship. When Melissa escapes from the hospital, after finding out that her father killed her boyfriend, Bill and Joe comb Greenwich Village to find her. When they come upon a hippie pot party, the two reactionaries snap, pull out their guns, and go on a killing spree.
Audience Reviews for Joe
½
Granted, the character that Peter Boyle is given in "Joe" is an interesting one, but the film simply doesn't do enough with him. We just watch as he exists and spouts racist and homophobic lines with none of it ever leading anywhere. Norman Wexler's script is decidedly good, but would've made for a better movie under someone else's direction.
Stephen Earnest
Super Reviewer
Two guys who hate everyone who's different from them finally take some action, violent action, and in the end begin to question their beliefs. This is a brilliant movie, and I highly recommend it. Plus, watch for Susan Sarandon in her first movie!
Joe Quotes
There are no approved quotes yet for this movie.