Joe Dirt
(2001)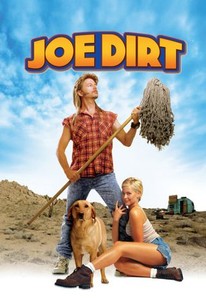 TOMATOMETER
AUDIENCE SCORE
Critic Consensus: If you fall within the target audience of Joe Dirt, you may find it funny. Otherwise, the jokes will seem like a tired retread.
Movie Info
As the title character of Joe Dirt, David Spade plays a "white trash" janitor at an L.A. radio station, whose mullet hairdo is just one of many personal oddities that make him the object of much ridicule. And the sanitation gig is just the most recent of Joe's many incarnations during a tumultuous life, which got off on the wrong foot when Joe was abandoned at the Grand Canyon by his parents as a young child. After stumbling into the on-air studio, Joe steadily recounts the sad and comical story of how he cared for himself and journeyed around the country trying to relocate his family, all while being prodded, teased, and eventually embraced by a sarcastic deejay (Dennis Miller) and a rapt listening audience. His travels involve stints selling fireworks, wrangling alligators, riding aloft in a car dealership display balloon, and being held captive by a Silence of the Lambs-style serial killer. Despite numerous setbacks and bruising physical injuries, Joe emerges from each episode with his spirit intact as he searches optimistically for his roots, and eventually for the chance to return to the one place he was accepted -- a rural farm where the girl of his dreams (Brittany Daniel) awaits. The directorial debut of Dennie Gordon, Joe Dirt was produced by Adam Sandler's production company, Happy Madison, and features musician Kid Rock, also debuting, in the supporting role of Joe's rival. ~ Derek Armstrong, Rovi
News & Interviews for Joe Dirt
Critic Reviews for Joe Dirt
Audience Reviews for Joe Dirt
½
A decent comedy with a few laughs, Joe Dirt lacks an effective story, but manages to make you smile a few times. In terms of this being a good comedy, it isn't, but it's not the worst either. The film has some comical moments here and there, and though never anything great, this isn't a film to take seriously. Sometimes it's good to enjoy a mindless comedy; Joe Dirt is such a film. A mindless entertaining comedy, meant to watch on a rainy night, this film may have plenty of imperfections, and it is stupid quite a few times, but it's harmless fun. Don't expect a memorable comedy with this one, expect a dimwitted film, and you won't be disappointed. This is, like I said, a mindless comedy. Funny, but stupid, this is nonetheless entertaining for what it is. The film has charm. The film could have been better, but this isn't an awful film. I enjoyed the film for what it was, and thought it was mindless fun. Don't expect a great film with Joe Dirt, expect something amusing, and you won't be disappointed. This is the type of film that you watch with friend to have a good time. The film has its flaws, but it's not as bad as you'd might think. This simply put, a fun little flick, and is much better than any recent Adam Sandler flick. There's enough here to enjoy, just keep your expectations average, and you may enjoy this film. Joe Dirt could have been a better film, but it manages to entertaining and amusing despite its many flaws. David Spade does manage to keep it amusing throughout and the gags are plentiful, even though some are pretty dull at times. Worth watching at least once.
This was too dumb for words. David Spade was perfect for this, seeing as its not much to work with. The plot is interesting in an idiotic way. The movie was overall bad, with a few funny moments.
Jim Careter
Super Reviewer
Funny in a SNL, Spade way, but not a "masterpiece."
Spencer S.
Super Reviewer
Joe Dirt Quotes
| | |
| --- | --- |
| Joe Dirt: | Oh god! I got the poo on me!!!! |
| | |
| --- | --- |
| Clem: | You're talkin to my boy all wrong. It's the wrong tone. Do it again, and i'll stab you in the face with a soldering iron. |
| Clem: | [talking to fire extinguisher] You're talking to me all wrong... It's the wrong tone. You do it again and I'll stab you in the face with a soldering iron. |