Joe Dirt 2: Beautiful Loser
(2015)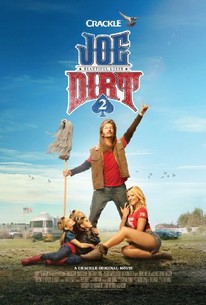 Joe Dirt 2: Beautiful Loser Videos
Joe Dirt 2: Beautiful Loser Photos
Movie Info
In this sequel to the 2001 cult favorite, David Spade ("Rules of Engagement") returns as the mullet-wearing, rock and roll loving, down on his luck white-trash-hero who embarks on another epic journey, this time through the recent past, the heartland of America - and his own mind - to get back to his loved ones. Joe Dirt is back with a vengeance, and a mop.
Critic Reviews for Joe Dirt 2: Beautiful Loser
Audience Reviews for Joe Dirt 2: Beautiful Loser
laughed at times but missing the craziness of the first film. much like the dumb and dumber sequel, failing to recapture the unique structure of the first film. I've been going through backlog of movies and reviewing them all over again with dates but a film like this I cannot waste my time. 26-03-2018.
Brendan O'Connor
Super Reviewer
How bad does bad get? That's the question with Joe Dirt 2: Beautiful Loser, a sequel 14 years in the making to a one-joke character from an actor now in his 50s. It's so bad that this movie is a Crackle original, a streaming service that I don't think people know exists. You can feel every degree of sad desperation while you watch. There are so many scenes that just seem to prattle on indefinitely, varying from one or two angles, as if they only had time to film one take and kept encouraging their actors to just keep throwing things out there in the misplaced hope that somehow somebody would strike gold. It does not happen once. David Spade returns and he's whisked away Wizard of Oz-style into the past where he watches his beloved girlfriend choose his rival (Mark McGrath) over him. It's a weird Back to the Future Part 2 alternative timeline and one where McGrath also plays his character's father in an inexplicable scene where he allows his family to unknowingly jerk him off. I hope that last sentence begins to reveal the true depths of comic despair that is Joe Dirt 2. It's not that it's powerfully unfunny, it's not that the plot is completely inconsequential, it's not that the jokes end up being weird pop-culture references dating back to the 90s (Buffalo Bill in 2015?), it's not that Spade looks like he's fulfilling some deal with the devil, it's not that the movie has no purpose and no reason to exist, it's that Joe Dirt 2: Beautiful Loser is like a communal funeral. You watch it and you mourn; for those involved and for your lost time. If you can find a more pointless, depressing, past-its-prime sequel, then I think the seventh seal has been opened, spelling the doom of mankind. I figured Adam Sandler would be responsible somehow. Nate's Grade: F
Nate Zoebl
Super Reviewer
Joe Dirt 2: Beautiful Loser Quotes
There are no approved quotes yet for this movie.