Joe Kidd
(1972)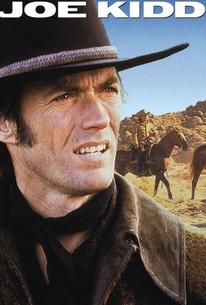 Movie Info
Anglo farmers have been stealing Mexican-American villagers' lands, under the pretext of having deeds which pre-empt their ancient Spanish land-grants. The poor people have had enough, and organize under the leadership of Luis Chama (John Saxon). When they nearly kidnap the local judge who had acquiesced in all this, Joe Kidd (Clint Eastwood) intervenes. Anglo landowners try to hire him to join the posse tracking down the rebels, but Joe at first refuses. Later, after his own farm suffers from the rebels' actions, he agrees. After a while, though, he sees the light and does the right thing.
Critic Reviews for Joe Kidd
Audience Reviews for Joe Kidd
I remember a much faster, spectacular film. Revisiting it I was very underwhelmed. An okay Western for the era, rather entertaining too in the great scenery of the Alabama Hills. But that's about it.
½
Ordinary western has good actors and nice scenery but nothing you have seen many times before. Still if you like Clint and westerns this will work fine for you.
No, it's not one of the best westerns ever made, but it's really fun. Clint Eastwood gives a great performance and really plays a different western hero than usual. It's also sort've odd to see Robert Duvall as such a scumbag. It's got a really great style that makes up for the uneven plot.
Conner Rainwater
Super Reviewer
Joe Kidd Quotes
There are no approved quotes yet for this movie.