Joe's Apartment
(1996)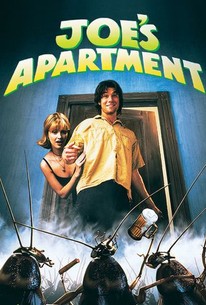 TOMATOMETER
AUDIENCE SCORE
Critic Consensus: Audiences will want their security deposit back from Joe's Apartment, a lame comedy whose dancing cockroaches are more charming than the human characters.
Movie Info
This film is based on an innovative short film made for MTV about a guy living in a horrible downtown apartment filled with scores of mischievous, smart-alecky roaches. The story chronicles the adventures of Joe (Jerry O'Connell), a hapless rube from the rural Midwest who journeys to the wilds of New York City. Mugged repeatedly on his arrival, his luck seems to turn when he finds an affordable apartment in a very dubious neighborhood. Unfortunately, his landlord (Don Ho) is more interested in evicting or, if need be, murdering his tenants, so that the building can be turned into a (highly profitable) penitentiary. Joe finds the allies he needs in his apartment's cockroaches, who sing and dance their way into his heart. This film should be of interest for fans of 1930s musicals; it makes reference to Busby Berkeley's elaborate dance phantasmagorias and the odd water ballets of Esther Williams. Many of the scenes utilized real roaches who were "choreographed" via tiny filament harnesses and other devices. Animal rights activists will be pleased to note that no roaches were intentionally harmed during filming.
Critic Reviews for Joe's Apartment
Audience Reviews for Joe's Apartment
½
Mostly known for being the first film made by MTV Productions, "Joe's Apartment" appears to be what is advertised, a pleasant romp, and actually has classic and contemporary music featured in almost every scene. This was at the summit of MTV's popularity, past its age of only featuring music videos, and with this first film from the cable network, a toe was dipped into the proverbial pool. This film didn't do very well critically or commercially and ended up being a box office bust. If it wasn't for the popularity of "Beavis and Butt-head Do America" in that same year, movies from the network would probably be much rarer than they are today. There's nothing altogether special or musically thrilling about this film so it's easy to see why it didn't do very well with the age demographic they were trying to reach. Besides having a quirky and up tempo soundtrack and an interesting gimmick, there isn't anything to this creepy crawly film except to say that the lead character, Joe, is disgusting. Joe moves to the Big Apple and steals an apartment from a dead woman after she is murdered by the landlord's hired guns. The plot gets a bit twisted after that, because her death is a bit glossed over what with a love story, an insidious back alley deal between the love interest's father and some corporate big wigs, and on top of everything a population of singing roaches in Joe's apartment, beguiled to him because of his atrocious cleaning habits. For all the philandering that goes on what remains the emphasis of the film throughout are these disgusting roaches and their co-dependent relationship with their tenant. They sing once, and do help thwart a murder attempt, but afterward they complain and whine about everything and serve as a burden to the storyline. The ending feels anti-climactic, because though he reaches an agreement with his roach friends, we're much more interested in the blackmail and corruption of the side storyline, and that gets no attention and ends all at once without true explanation. It's a bit of a half baked idea to begin with, and this was obviously trying too hard to be cool to teenagers, missing the point of what an MTV film should be.
Spencer S.
Super Reviewer
½
I saw this film when I was a kid and I always thought it was a fun little flick. This is a film without its flaws, but it is pretty entertaining for what it is, and manages to be funny as well. I found this film pretty underrated and it doesn't deserve the flack it has received. I do agree it's flawed, but for the most part, it's a mindless comedy that is not meant to be taken seriously. If you love mindless humor, then this film is for you. The film's script is uneven, but most of the time there's plenty of good material here to make it work. The effects may look dated by now, but Joe's Apartment is still a fun little time waster that isn't meant to be taken seriously. The film has its moments and doesn't try to be a great flick, but it manages to be pretty fun due to the singing cockroaches, which is what saves the film from being a total dud. The performances are good for what they are, and are never anything great, but for what it is, the cast do a fine job here. Although mindless fun, the film definitely left a lot of room for improvement, and it could have been a far better one at that, if the ideas were much more thought out. This is an interesting idea for a flick that like I said, is entertaining and fun, but in the end could have been much better than what it turned out to be. None the less, I really liked the film, and if you like no brainer comedies, this film is for you.
A cute film but forgettable.
Tim Salmons
Super Reviewer
Joe's Apartment Quotes
There are no approved quotes yet for this movie.