John and Mary
(1969)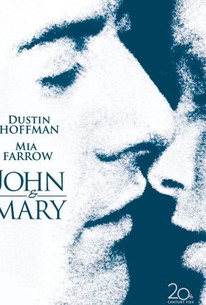 Movie Info
John and Mary attracted a great deal of press coverage in 1969 for being the one of the first American films in which the male and female leads (Dustin Hoffman and Mia Farrow) start out the film by spending the night together, rather than holding off until the end. The morning after, the boy and girl wander about New York, wondering if they'll truly commit themselves to one another. Both characters are haunted by unsuccessful earlier affairs, and both have enough hang-ups to fill volumes of psychological textbooks. Come nightfall, John and Mary end up back in bed...and learn each other's names for the first time. John and Mary was considered "beautiful," "progressive" and "significant" in the permissive 1960s; nowadays it's about as controversial as The CBS Morning News.
Critic Reviews for John and Mary
Audience Reviews for John and Mary
½
Still under the spell of a pixiesque Mia Farrow (Sinatra, you were a moron for letting her go...!) its damn near impossible for me to give anything resembling a subjective opinion of John and Mary, but I liked it. I can see why its not the movie brought up with you think of Dustin Hoffman or even Farrow's best work but director Peter Yates wonderfully (and somewhat confusingly) intercuts might haves and flashbacks with the present story. The voiceover thoughts were kind of dumb though. Hoffman's great in a quirky way and Farrow was an absolute doll. The story's nice and simple even if there are a few dopey and dated parts to it. John and Mary is a nice little jem that's definitely worth an hour and a half.
Michael Gildea
Super Reviewer
I will say that Mia Farrow in this is amazing, easily one of her best performances and one of the most adorable characters. It's as if she channels the spirit of Audrey Hepburn with her. I really like the overall concept as well, it's a very interesting way about telling a love story. What really kept me from loving the movie was Dustin Hoffman's John. Not so much the acting but the character himself, he's just such a scumbag and poor excuse for a "good guy". Maybe that's what was trying to be accomplished, but it just seemed like he was the voice of the story. I'd still say this a great movie, it just doesn't have you rooting for the two to end up together.
Conner Rainwater
Super Reviewer
½
Mia Farrow has such an unconventional sex appeal. Film is very clever in revealing flashbacks and what-ifs, however I'm not sure what to take away from it's discussion of sexual politics. The end is a little too reductive (even for a movie) - John and Mary decide they are right for each other and Mary reverts to a "typical" woman role in the kitchen.
Alice Shen
Super Reviewer
John and Mary Quotes
| | |
| --- | --- |
| Mary: | Its a very festive area, young men with poodles live there. |
| Mary: | It's a very festive area, young men with poodles live there. |