John Carpenter's Ghosts of Mars
(2001)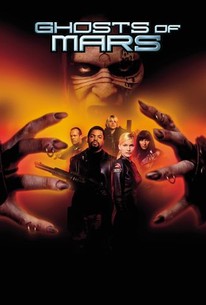 TOMATOMETER
AUDIENCE SCORE
Critic Consensus: John Carpenter's Ghosts of Mars is not one of Carpenter's better movies, filled as it is with bad dialogue, bad acting, confusing flashbacks, and scenes that are more campy than scary.
John Carpenter's Ghosts of Mars Videos
John Carpenter's Ghosts of Mars Photos
Movie Info
By the year 2025, the planet Mars, long inhabited by human settlers, has become the manifest destiny of an over-populated Earth. Nearly 640,000 people now live and work all over Mars, mining the planet for its abundant natural resources. But one of those mining operations has uncovered a deadly mother lode: a long dormant Martian civilization whose warriors are systematically taking over the bodies of human intruders. Lt. Melanie Ballard of the Martian Police Force is on transport assignment to bring James "Desolation" Williams, the planet's most notorious criminal, to justice. Williams has no plans to make Ballard's job easy. What begins as a battle of force and wits between cop and criminal soon turns into something more fundamental: a battle for human survival in the realm of the Martian warriors. It's civilization against civilization as Ballard and Williams join forces in mortal combat with the Ghosts of Mars.
Critic Reviews for John Carpenter's Ghosts of Mars
Audience Reviews for John Carpenter's Ghosts of Mars
This is a John Carpenter movie? Well its not one of his best, not by a long shot. A Martian virus infects the Earth colonists and makes them go like Viking berserker kray-kray. Its told in flashback, and sometimes there's flashbacks in flashbacks, and then yet more again. You forget where you are in all of the tizzy. And most of the dialogue is delivered as if everyone onscreen thought they were Clint Eastwood in a Sergio Leone Western. It gets a little motononous. Its a peanut butter w/o jelly sandwich.
Kevin M. Williams
Super Reviewer
Yep back near the millennium there was a bit of a Mars movie rush. Alongside a couple other action thrillers earlier in 2000 this horror thriller was obviously a more fantasy based trip to the red planet courtesy of John Carpenter. You know its Carpenter straight away with most of his films but this was different. For a start the soundtrack was a lot of actual heavy metal performers playing pieces created by Carpenter. So yes the tunes are all Carpenters work as usual but it just didn't have the cool quirky simple electronic vibes you associate with his films. The heavy metal stuff just feels too errr...heavy for what the film is, it tries to force the action and gore upon you with loud thrashing music which just seems childish really. Naturally with Carpenter it looks cheap, everything is normally basic but created well with clever lighting, camera angles and editing. In this there is none of that craftsmanship, it really does feel as if John has sold out and given us a loud cliched straight to DVD action flick with no real thought or imagination. Everything also looks really really poor, terrible sets, terrible effects and makeup work and why are the good guys all wearing ski masks?. You can virtually see the edge of the sets half the time, we are talking TV movie standards here people!. The plot is completely lame lets be honest, in fact it just feels like 'The Fog' but set on Mars or in space. That red dusty alien spirit cloud that goes around infecting the miners? come on John!. On top of that its all just a basic crappy zombie-ish horror theme. Humans are turned into mindless zombies that like to mutilate themselves and cut peoples heads off, errr gee...like wow!. Its a shame because the cast is pretty cool with good names. A very young slim looking Statham with a bit of fuzz left on his bonce, Grier who is always sultry n sexy (why does she have to buy the farm so soon John!?) and Henstridge does add a 'Ripley-ish' current but personally I would of cast someone else. Yes 'Ice Cube' is there too being ridiculously over the top trying to make us all think he's a rough tough gangsta' in space, when will you grow up and use your real name Jesus!. All together this really does feel like a rehash of previous thrillers 'The Fog' and 'Assault on Precinct 13' all mixed into one. Completely inept in every area, very cheap looking and totally un-thrilling in any way, how Carpenter produced such a generic piece of crapola like this I don't know. You only have to look at the space zombie bad guys to see how poor it is, looks like the makeup was applied by themselves and thought up by teenagers.
Phil Hubbs
Super Reviewer
[img]http://images.rottentomatoes.com/images/user/icons/icon13.gif[/img]
Directors Cat
Super Reviewer
John Carpenter's Ghosts of Mars Quotes
There are no approved quotes yet for this movie.