John Carter
(2012)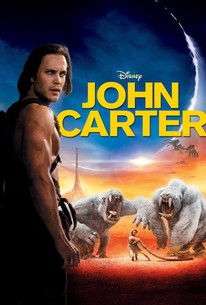 TOMATOMETER
AUDIENCE SCORE
Critic Consensus: While John Carter looks terrific and delivers its share of pulpy thrills, it also suffers from uneven pacing and occasionally incomprehensible plotting and characterization.
Movie Info
From filmmaker Andrew Stanton comes John Carter-a sweeping action-adventure set on the mysterious and exotic planet of Barsoom (Mars). John Carter is based on a classic novel by Edgar Rice Burroughs, whose highly imaginative adventures served as inspiration for many filmmakers, both past and present. The film tells the story of war-weary, former military captain John Carter (Taylor Kitsch), who is inexplicably transported to Mars where he becomes reluctantly embroiled in a conflict of epic proportions amongst the inhabitants of the planet, including Tars Tarkas (Willem Dafoe) and the captivating Princess Dejah Thoris (Lynn Collins). In a world on the brink of collapse, Carter rediscovers his humanity when he realizes that the survival of Barsoom and its people rests in his hands. -- (C) Walt Disney
Critic Reviews for John Carter
Audience Reviews for John Carter
½
Its a rainy Saturday afternoon movie for tweens. That said, Edgar Rice Burroughs isn't too badly served by this leave-your-thinking-cap-off glorioski extravaganza, with miles and miles of CGI animation used to get ... meh. Yer gonna need more popcorn. Its sorta okay. Is it still raining outside?
Kevin M. Williams
Super Reviewer
A US cavalry officer is accidentally transported to Mars where he encounters a warring civilisation who require his help to end the conquest of their world by a brutal warlord. When talking about cynical marketing campaigns, it's usual to point to terrible films that become big hits through licensing, advertising and sponsorship deals, but the other side of the coin is John Carter. To say that this film bombed at the box office would be an understatement of the highest order. Those responsible for the marketing of this film fumbled the ball on such a colossal scale that it couldn't hope to recoup the reported budget of $250,000,000 despite the fact that it really isn't all that bad. It's fair to say that you can see where the money was spent; it's a very attractive film packed with nice production design, spectacular set pieces and a quality cast. The problem with John Carter is that it doesn't really capture the imagination in the way a large scale sci-fi adventure should. The culture created in the form of Barsoom is rather charmless and there's little in the way of chemistry between what should be the big romantic leads at its centre. There are also too many supporting characters who get too little screen time on their own making it hard to care about any of the protagonists. But by far the biggest blunder is in how seriously it takes itself; a little campiness and a self-deprecating sense of humour would have gone a long way to making the film a lot more likeable. The result is a po-faced cross between Flash Gordon and Xena: Warrior Princess with a big budget but having said all that, the pacey if somewhat episodic plot and large scale battle sequences maintain the interest for the duration. As a whole it's rather too clinical and soulless but John Carter didn't deserve to sink without a trace and I'd much rather sit through it again than The Phantom Menace or Attack Of The Clones.
½
I like science fiction, and enjoyed the movie. Perhaps not having read "A Princess of Mars" is a good thing, as I didn't have the book to compare to.
John Carter Quotes
| | |
| --- | --- |
| Matai Shang: | On every host planet it always plays out exactly the same way. Populations rise, societies divide, wars spread. And all the while, the neglected planet, slowly fades. |
| | |
| --- | --- |
| John Carter: | The Jeddak of Zodanga means to quash Helium this very night, and if Helium falls, so does Barsoom. We must throw out the thought of old hatreds. Tharks did not cause this, but by Issus, Tharks will end it! We ride for Zodanga! |
| | |
| --- | --- |
| Dejah Thoris: | No. It is your will. When I was little and we would look up at the stars, and you would tell me of the heroes whose glory was written in the sky. How there was a star up there for me. Is this what you imagined would be written on it? |
| | |
| --- | --- |
| Dejah Thoris: | I'm getting away! |