John Rabe
(2010)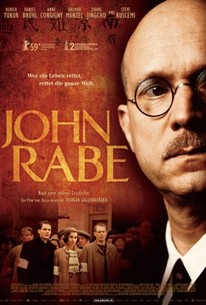 TOMATOMETER
AUDIENCE SCORE
Critic Consensus: Though it strays into predictable melodrama, John Rabe is worth watching for the light it shines on a neglected corner of Chinese history.
Movie Info
China was in flames when a German businessman became a reluctant hero. When the Imperial Japanese Army invaded China in 1937, attacking the civilian population of the capital Nanking with unprecedented inhumanity, John Rabe, manager of Siemens' China branch and a resident in the country for 27 years, took action. Along with a few other members of the foreign community including doctors and missionaries who remained in the city, and driven by simple humanitarian concerns, shock at the appalling behaviour of Germany's Asian ally, and a love for the country and people among whom he had worked for so long, he created a safety zone in which a quarter of a million civilians survived what was later to go down in history as the "Nanking Massacre."
News & Interviews for John Rabe
Critic Reviews for John Rabe
Audience Reviews for John Rabe
½
I like the World War II films that cover the stuff everyone knows, but I'm stating to get even more appreciative of the ones that bring the lesser known parts to a wider audience. What we get here is the story of John Rabe who was essentially the Oskar Schindler of China. This film is a look at German Industrialist John Rabe who lived and worked in China, and was one of the key players who established a safety zone for the locals during the occupation of China by the ruthless Japanese Imperial Army. The event is often (unflatteringly) referred to as "The Rape of Nanking". What this docudrama depicts is how Rabe goes from Nazi Party member to savior due to his efforts to provide sanctuary for the oppressed locals. Joining him in his efforts were other Westerners, with the highlight being American Dr. Robert Wilson- a very dedicated and compassionate doctor not afraid to speak his mind and call out Rabe for his flaws and motivations. In this film Wilson is played by Steve Buscemi, and, while I think Ulrich Tukur was fine as Rabe, I think Buscemi gives a better performance, and that the film should have been more about him. That's not just because Buscemi is my favorite actor. His character is just more interesting, developed, and compelling. But Rabe is still a fascinating person, even if the film doesn't do with him what it should, especially since he is the lead here. The period details are great, the film has a nice balance with showing the atrocities without going overboard or sugar coating it, and, more importantly, it brings to life an important part of history that more people need to know about. Yeah the script could be better written, the pacing and structure a little tighter, and the importance of the story made more apparent, but overall, the film does just enough right to merit a slightly more than meager recommendation.
Chris Weber
Super Reviewer
This German film tells the story of the Japanese sacking of Nanking, China in 1937 and the part German engineer Rabe played in saving great numbers of the population from murder and rape. Especially the 3 hour version takes its time introducing the characters and situation shortly before the Japanese invasion and delivers some great and spectacular war scenes. Things in town start to get dire pretty soon, too. In its strongest and most horrifying moments, the film does not have to hide behind Schindler's List, when it comes to depicting the horrors of war and war crimes in particular. That sometimes makes it almost unbearable to watch, but still so enthralling and touching. The acting is top notch, especially Tukur is a really convincing jovial but humane Rabe. Buscemi as the American doctor in town has the best one liners and brings some bitter humor into play. The direction is flawless and creates a maelstrom of desperate situations without ever entirely abandoning hope. That makes for engrossing and moving film making and a movie that actually got deeper under my skin than Spielberg's classic. Highly recommended for history buffs.
½
On December 1, 1937, John Rabe(Ulrich Tukur), the manager of the Siemens plant in Nanking, is only a couple of days away from returning to his native Berlin for a promotion with his wife Dora(Dagmar Manzel). After warmly greeting his successor, Fliesse(Mathias Herrmann), he receives some unwelcome news about the future of the plant. That's nothing compared to rumors of the approaching Japanese army commanded by Major Ose(Arata) which leads Dr. Robert Wilson(Steve Buscemi) to prepare for the worse. That comes later when the bombing starts, as Rabe gives sanctuary to his workers at the plant, huddled underneath a gigantic Nazi flag for protection. I admit I know the correct approach for material such as this is to tell it from a native point of view(as was the recent excellent film "The City of Life and Death"). At the same time I am fascinated by John Rabe who is at first depicted as cold and imperious(the first shots of the movie involve "Deutschland uber Alles" and a smaller Nazi flag) before realizing a responsibility to the people of China. In retrospect, he and his colleagues on the safety committee could possibly be seen to be acting out of a certain naivete but how could any of them have imagined the turn towards total war favored by the Nazis and Japanese?(The bombing of Guernica had been on April 26, 1937.) Rabe had not lived in Germany for decades and no idea of what the country had recently become. It should also be noted the movie spares the viewer from the worst of the atrocities with some archival footage thrown in. And, yes, Steve Buscemi's presence is a little distracting but where else are you going to see him play the hero and speak a little Chinese to boot?
John Rabe Quotes
There are no approved quotes yet for this movie.