Rambo (Rambo IV)
(2008)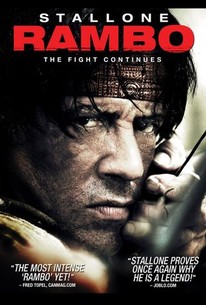 TOMATOMETER
AUDIENCE SCORE
Critic Consensus: Sylvester Stallone knows how to stage action sequences, but the movie's uneven pacing and excessive violence (even for the franchise) is more nauseating than entertaining.
Movie Info
When a group of missionary aid workers in Myanmar disappear into the vast green inferno, vigilante Vietnam War veteran John Rambo (Sylvester Stallone) leaves his job as a Salween River boatman behind to accompany a group of mercenaries on a daring rescue mission. It's been 20 years since Rambo helped mujahedeen rebels fend off Soviet invaders in Afghanistan, and these days the former soldier lives a simple life in northern Thailand. Meanwhile, the world's longest-running civil war rages into its 60th year on the nearby Thai-Burma border. One day, human rights missionaries Sarah Miller (Julie Benz) and Michael Burnett (Paul Schulze) show up asking Rambo to guide them up the Salween so they can get some much-needed food and medical supplies to the desperate Karen tribe. According to Sarah and Michael, the Burmese military has planted land mines all along the roads leading into the tribe's village, making it virtually impossible to reach the tribe via land. Two weeks after Rambo drops the group off in dangerous territory, pastor Arthur Marsh (Ken Howard) arrives with a chilling message: the aid workers never returned from their mission into the jungle, and the embassies refuse to help Marsh and his fellow missionaries find their missing friends. Now, despite the fact that Rambo has long since sworn off all forms of violence, the knowledge that innocent missionaries are being used as pawns in a brutal war leaves him with no other choice than to venture behind enemy lines on his most dangerous mission to date. ~ Jason Buchanan, Rovi
News & Interviews for Rambo (Rambo IV)
Critic Reviews for Rambo (Rambo IV)
Audience Reviews for Rambo (Rambo IV)
I probably shouldn't have wasted my time with the edited version. On the other hand: when did more gore and violence ever make for a better movie? This way, the showdown was rather short and some character's fate entirely unknown. What does that leave left to say about the film? Very few surprises, a one-dimensional hero, no villain to speak of, just decent action sequences. It's also pretty tasteless to start an action film with actual footage of corpses from a civil war region. Rambo used to kill for a cause, now it feels like it's just violence porn. That's not okay.
On an artistic level, this film's value is questionable, but I think mostly good...or at least tries. On an entertainment level, the film is great. This film is definitely the runner up in the series, but does come a bit close at times to matching the first entry. The story is okay, but like many action films, there's only just enough plot to provide a reason for tons of action, violence, blood, and gore. Those are all things that this film has more than enough of. That's not a bad thing though. Stallone is actually a really competent director, and under his direction, the violence and action aren't wasted. There's a moral center to the film, and it doesn't come off as too hokey, cheesy, or preachy, but it does have a clear stance on an important issue. How the film deals with that issue is where you could debate for hours on its merits and effectiveness. This is a more mature Rambo. Not having any of the cheesiness of parts 2 and 3 really helps. Like Rocky Balboa, this film strives for a tone closer to the first film. In the case of this film though, it's not nearly as close as Rocky Balboa is. It's close though. I feel that this film is too short, but I don't really know what to add except for some more character development. The acting is decent (for what a film like this needs), but could have been better. It's clear Stallone wanted a Rambo more appropriate for his age, time, and to best fit the way the world is now, and he succeeded. Overall, this is a decently satisfying experience, despite its flaws- like being a bit predictable here and there. He's spent years trying to achieve peace and put his past to rest, but Rambo still can't quite let go. He's gotten amazingly close, but finds himself forced to unearth his long buried but lethal set of skills in order to rescue a group of missionaries being held captive by the ruthless Burmese army and their vicious leader. Ordinarily Rambo wouldn't care, but he's regained some of his humanity and conscience, and I liked how the film handled the characters return to his old ways, but did so in a way that felt realistic and grounded. This film probably has the most overt political and social message about it, and I liked it, although it can be hard to defend or justify the means used to solve problems. I mean, it's 91 minutes long, and there's a body count of about 236, so that's roughly over 2.5 kills every 60 seconds! Wow! And this is definitely the most visceral and brutal of the series too, as you see (in detail) bodies get blown to bits or shredded by gunfire instead of just falling down or going up in a puff of smoke. Like I said though, there is a purpose behind it. The film is chock full of action, but there's a lot of down time as well, most of it well spent. When things get cooking though, this is definitely one of the most impressive and jaw dropping carnage fests ever, and it helps that the film actually tries to make it legitimately impactful. All in all, a very satisfying, though still flawed film. What it lacks in overall emotional heft it more than makes up for viscerally. Plus, it's just nice seeing the character again, and the direction they they took him in. Having Goldsmith's old score get reincorporated was a wonderful nostalgic and masterful touch as well.
Chris Weber
Super Reviewer
Sylvester Stallone's Rambo is everything it sets out to be.
The story is straightforward and it only requires a little over 80 minutes to get through it all. The plot unveils in a linear fashion and it is a steady climb until its mind blowing finale.
The violence is brutal and gratuitous. The villains and setting of the picture also make the action that much more satisfying. It is honest and serious, but at the same time the highlight of everything that happens. The final 10 minutes warrants a standing ovation.
Sylvester Stallone shows that he can direct, while also star as the lead with no problem. Julie Benz is a little preachy with her dialogue, but stands out as the lone female. The cast of mercenaries are an interesting bunch as well.
Rambo holds nothing back and it delivers its entertainment in a bloody violent fashion. Go see it.
Rambo (Rambo IV) Quotes
| | |
| --- | --- |
| Lewis: | Who are you boatman? |
| | |
| --- | --- |
| Lewis: | Look at this fucking place. Only a fucking ape would live here. What the fuck am I doing here? |
| En-Joo: | Hey, knock that shit off. |
| Reese: | And you don't like the arts. |
| Diaz: | And you don't like shit. |
| En-Joo: | I like your sister, Diaz. |
| Diaz: | Yeah, she got a thing for retards. |
| | |
| --- | --- |
| John Rambo: | Fuck the world. |
| | |
| --- | --- |
| John Rambo: | You know what you are. What you're made of. War is in your blood. Don't fight it. You didn't kill for your country. You killed for yourself. The gods are never gonna make that go away. When you're pushed, killing's as easy as breathing. |