John Wick
(2014)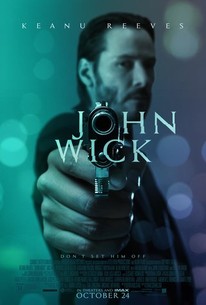 TOMATOMETER
AUDIENCE SCORE
Critic Consensus: Stylish, thrilling, and giddily kinetic, John Wick serves as a satisfying return to action for Keanu Reeves -- and what looks like it could be the first of a franchise.
Movie Info
An ex-hitman comes out of retirement to track down the gangsters that took everything from him. With New York City as his bullet-riddled playground, JOHN WICK (Keanu Reeves) is a fresh and stylized take on the "assassin genre". (C) Lionsgate
News & Interviews for John Wick
Critic Reviews for John Wick
Audience Reviews for John Wick
For those who like Taken and its sequels, here is a much more stylish, gripping and smart action movie that boasts an awesome soundtrack, thrilling fight scenes and a badass Keanu Reeves shooting, kicking and proving that he can be an action movie star like few others.
Carlos Magalhães
Super Reviewer
Boring, violent crap. Who enjoys this s€+t? Not me, I like an actual story, not just non stop mindless fighting.
Nicki Marie
Super Reviewer
½
When John Wick hit the cinemas back in 2014, the trailers made it look cool and stylish, but it really did look like another cash-grab film for Keanu Reeves, which is why the box office did not return much. Having said that, the audience that did make their way to the cinema, fell in love and so did the critics. Personally, although I did enjoy myself in the theatre, it took a while to grow on me. With such a simple premise, usually a film like this would fail miserably, but this is too awesome of a film to pass up, surprisingly. Earning a sequel due to its extremely positive feedback, John Wick is still a blast to watch, and here's why. Starting with a very somber tone as he is grieving the recent loss of his wife, John Wick receives one last gift from her. A puppy shows up on his doorstep as a memory. Being his last remaining attachment to his late wife, he begins to love and care for this dog, but not for too long, as men invade his home, steal his car, and murder his dog. From there, a revenge plot sets itself in motion and the film pretty much never lets up on its action until the final moments. Although it begins on a sad note, there is more than enough entertainment to compensate and ultimately forget about the past and look forward to him kicking some serious ass. Although this film is well-intentioned, there really isn't a single person to latch onto, aside from the titular character. Willem Dafoe's portrayal of the villains main henchman, who also has a deep past with John Wick, was a nice addition, but ultimately just a plot device later on in the film, which was a bit of a letdown for me. His character, although soft-spoken, was the most interesting side character, because everyone else are the most disposable characters I have seen on-screen in quite some time. That being said, I think that's exactly what the filmmakers were going for here. They set out to make a fun action flick and they delivered it in spades. You come to see a film like this for the action. There is no way around that. Whether you are a die hard fan of the action genre or just a casual one, you should know what you are in for when going into a film like John Wick. With a silly, yet serious premise like murdering a dog to get a hitman out of retirement, it's pretty self-explanatory that it would become an all-out action film by the end. With a club sequence that will be remembered by action fans for years and years, to some incredible fight choreography, John Wick is one of the better modern-day action flicks, especially when talking about original properties. In the end, if you haven't seen this film yet, but are still curious about watching it, just know what you are in for. This is more like a Point Break than it is a Matrix or Speed, in the way that it knows not to take itself too seriously. Looking back on this film, it seems as though the upcoming John Wick: Chapter 2 will be for John Wick, what The Raid 2 was to The Raid. John Wick really is just a fun little introduction to this character, filled with some incredibly done action sequences, some very precise camerawork, and a performance that comfortably puts Keanu Reeves back on the map. This is one kick-ass action movie that I can watch anytime I feel that I'm in the mood, even though there isn't much substance to it. Let's be honest though, are you really going into this film expecting The Godfather?
John Wick Quotes
| | |
| --- | --- |
| Viggo Tarasov: | What happened John?... we were professionals... civilised! |
| Viggo Tarasov: | What happened John? We were professionals... civilized! |
| John Wick: | Do I look civilised to you? |
| | |
| --- | --- |
| John Wick: | It's personal. |
| | |
| --- | --- |
| Viggo Tarasov: | John was once an associate of ours. They call him Baba Yaga. |
| Iosef Tarasov: | The boogeyman? |
| Viggo Tarasov: | Well, John wasn't exactly the boogeyman. He was the one you sent to kill the fucking boogeyman! |
| Iosef Tarasov: | Oh. |