John Wick: Chapter 2
(2017)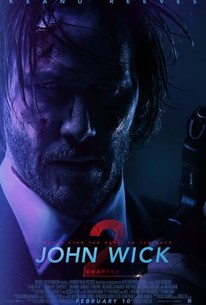 TOMATOMETER
AUDIENCE SCORE
Critic Consensus: John Wick: Chapter 2 does what a sequel should -- which in this case means doubling down on the non-stop, thrillingly choreographed action that made its predecessor so much fun.
John Wick: Chapter 2 Videos
John Wick: Chapter 2 Photos
Movie Info
In this next chapter following the 2014 hit, legendary hitman John Wick (Keanu Reeves) is forced back out of retirement by a former associate plotting to seize control of a shadowy international assassins' guild. Bound by a blood oath to help him, John travels to Rome where he squares off against some of the world's deadliest killers.
News & Interviews for John Wick: Chapter 2
Critic Reviews for John Wick: Chapter 2
Audience Reviews for John Wick: Chapter 2
So I watched both John Wick One and Two yesterday. I'm glad I did -- I think, cuz no more any nightmares -- yet. I like Keanu Reeves, and I thought he'd disappeared. Yeah, I get that he loves his Mustang, but when those bastards kill his puppy, even I wanted all of them dead -- although I gotta say these movies were both kinda more violent than I care for. Dude, when you've got John Wick tied up, why in the whole wide world do you have John Wick tied up? Geez, Louise, you know he's a killing machine, so when you have the advantage, why don't you kill him immediately? Kill him before he inevitably kills you. Think, folks, think. K-I-L-L John Wick, you I-D-I-O-T-S. Hollywood, I tell you. Wick's guaranteed target is the head. Every single time. A hundred times in each movie. So even if he's shot someone five or six or more times already, and broken every bone in the guy's body, notice how he still makes sure to plant one in the head as a final "Let me make sure this guy's dead." In the brain, like the way you kill zombies. Is it just my perception that most guys can't aim, but John Wick could hit a fly sitting on the moon? Geez. Of the hundred and two or hundred and three folks he kills -- in each movie -- maybe two or three of them can shoot with a teeny tiny bit of accuracy. Lucky for John Wick, because the bullets are flying every-freakin-where. A word of advice: Don't get into knife fight with John Wick. You will lose. And then he might shoot you in the head, just to make sure you've lost. John Wick is definitely into the martial arts, and having watched University Lab School grad Enson Inoue (mixed martial artist in Japan specializing in Brazilian jiujitsu), I know that Wick employs the arm bar on several occasions, although he definitely uses a mix of types, not just jiujitsu alone. The same way someone like Jet Li mixes styles to fit the purpose and the choreography of a particular situation. Oh, and I don't think you can understand some of Two without seeing One, so I suggest you watch One first. Oh, and Three is on the way. Oh, and he does steal a new dog in Two, and his totaled Mustang is in the shop getting repaired in anticipation of Three. John Leguizamo boasts he can fix the Mustang, but you know they're just gonna use a new one in the next movie. John Leguizamo is no car repair guy. He's an actor, for goodness sake. Yeah, they'll just use a brand new Mustang that looks like his old one. I'm pretty sure. Cuz that's a hell of a lot of body work. Plus they would have to find a driver's side door, plus who knows what, yeah? I mean there's totaled, and then there is T-O-T-A-L-E-D. One little anecdote. My mom and dad really wanted to see Speed, but it had already left the theaters. How they got turned onto it, I don't know. So for Christmas I bought them the VHS tape. The three of us watched it together. When it ended my mom said, "That Reeves boy, very good-looking. Too bad he can't act." I think about that every time I watch a Keanu Reeves movie. Can he act? I don't know. I like him no matter.
Lanning : )
Super Reviewer
An exhilarating sequel that does justice to the first movie by expanding this fascinating world of criminals and assassins to another level with its rules, scope and reach, while at the same time offering us more amazing fight scenes, deaths (lots of them) and set pieces.
Carlos Magalhães
Super Reviewer
½
Absurd, action packed thrill ride. Keanu did a great job once again. Action sequences make up for the lack of story.
Spencer Macklin
Super Reviewer
John Wick: Chapter 2 Quotes
There are no approved quotes yet for this movie.