John Wick: Chapter 3 - Parabellum
(2019)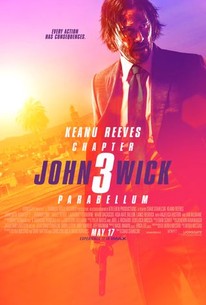 TOMATOMETER
AUDIENCE SCORE
Critic Consensus: John Wick: Chapter 3 - Parabellum reloads for another hard-hitting round of the brilliantly choreographed, over-the-top action that fans of the franchise demand.
John Wick: Chapter 3 - Parabellum Videos
John Wick: Chapter 3 - Parabellum Photos
Movie Info
In this third installment of the adrenaline-fueled action franchise, super-assassin John Wick (Reeves) returns with a $14 million price tag on his head and an army of bounty-hunting killers on his trail. After killing a member of the shadowy international assassin's guild, the High Table, John Wick is excommunicado, but the world's most ruthless hit men and women await his every turn.
News & Interviews for John Wick: Chapter 3 - Parabellum
Critic Reviews for John Wick: Chapter 3 - Parabellum
Audience Reviews for John Wick: Chapter 3 - Parabellum
½
It should go without saying that the John Wick movies were never intended to be award-winning films by any stretch of the imagination. Sometimes a film can spawn sequels due to fan appreciation and then build a world off the things that audiences grew to love, which in this case, was heavy violence. I'm almost baffled that movies like this are still being made in today's climate, but to be able to look past our daily lives and invest ourselves in fictional stories will hopefully always be around, no matter what the subject matter may be. At times too violent, even by the standards set by the previous two instalments, here's why I believe John Wick: Chapter 3 - Parabellum is a great action film, but not quite a great movie as a whole. After making a few bad calls in the previous film, this third instalment follows John Wick once again, as he now has a 14 million dollar bounty on his head, and everyone wants to take him out. That's the basic premise here, but as all of these movies have tended to do, the story gets a little muddled and tries to build out this world a little too much. Let's not kid ourselves though, if you're someone who hopes for an incredible piece of storytelling in a movie like this, you're going to be incredibly disappointed. These films are made for the incredible action and this one definitely doesn't shy away from that. Although this instalment does feel its slightly long runtime of 130 minutes, this film also features the biggest headcount, which was almost jarring at times. Even for action junkies who loved the violence in the first two films, it has been cranked up much more this time around, if that's even imaginable. From stabbing to shooting to crazy choreography, John Wick: Chapter 3 - Parabellum is a no-holds-bar thrill ride from beginning to end. If you find yourself slightly bored by a few story elements throughout the second act of the film, don't worry, because you'll be given more than enough action to make up for that, which also leads me to my biggest complaint with this movie. First and foremost, this movie focusses on being an action film and never once does it stray from that goal. For that reason alone, action fans are going to get their fix here. It's not, however, all that interesting when it comes to world-building. There is a significant portion of this film that introduces new characters and other organizations, which could make for some great standalone stories, but just felt like a bit much to be included in this film. There were moments where I felt the movie dragging because it slowed down immediately after a 10-minute action scene. Overall, John Wick: Chapter 3 - Parabellum is a very solid sequel to the first two films and is pretty much on par with the quality of the franchise in general. This is a consistently entertaining series that I will continue to recommend to those who like a lot of violence in movies. If you're someone who can't take a violent death scene, then I would advise staying away from this franchise, with an emphasis on this film in particular. John Wick: Chapter 3: Parabellum definitely has issues, but I thoroughly enjoyed watching it.
½
Caught this over the weekend and I have to say this franchise is growing into one of my favourites. The world building continues and we are now at the point where a violent number 4 is evitable. Strong action scenes and a welcome addition of Berry thrown into the mix. Gritty and stylish, this franchise is open for more chapters and Reeves has finally found a character worthy of his presence. Good sequel. 18/05/2019
Brendan O'Connor
Super Reviewer
John Wick Chapter 3: Parabellum continues the brutal, spectacular action sequences that have defined the franchise, thanks to the constant efforts of Keanu Reeves. While the film's plot isn't bulletproof you ultimately exit in awe over how much action and exhilarating thrills transpired over the course of two-plus-hours. 4.25/5
Eugene Bernabe
Super Reviewer
John Wick: Chapter 3 - Parabellum Quotes
There are no approved quotes yet for this movie.