Johnny Apollo
(1940)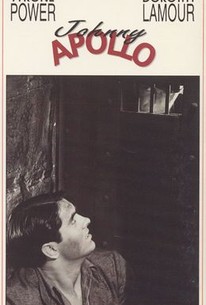 AUDIENCE SCORE
Critic Consensus: No consensus yet.
Movie Info
Tyrone Power plays the college-grad son of jailed-embezzler Edward Arnold. Power tries to find work, only to be turned away because of his father's reputation. When he decides to use a phony name, he is still fired, because his ex-convict boss feels that Power is being unfair to his imprisoned father. If you can't win for losing in a 1940 film, you turn to crime. Power hires on as the right-hand man of personable but deadly gangster Lloyd Nolan. Arnold, who has become a model convict, is disgusted that his son has turned to crime. He even refuses to have anything to do with his son when Power lands in the slammer himself. Through the intervention of Nolan's moll Dorothy Lamour, a nightclub singer who has grown to love Power, Arnold realizes that his son is still a good guy underneath. Power proves as much by preventing a climactic jailbreak engineered by the homicidal Nolan.
Critic Reviews for Johnny Apollo
Audience Reviews for Johnny Apollo
Nice tough little crime drama. Good performances from Power, Arnold and Nolan but best of all is Dorothy Lamour in one of her best, if not THE best performance of her career. Worth your while.
Johnny Apollo Quotes
There are no approved quotes yet for this movie.