Johnny Eager
(1942)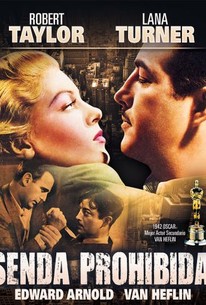 AUDIENCE SCORE
Critic Consensus: No consensus yet.
Movie Info
Robert Taylor toughened up his image considerably with this gangster movie, which was unusual both in its plot and origins, having come from MGM, which was generally not known for its crime movies. Taylor plays a parolee who is pretending to follow the straight-and-narrow as a hardworking cabbie, but is really the mastermind behind a dog-racing track being built with mob money. Eager works every angle, has a gang that's generally in line, and also has a loyal right-hand man in Jeff Hartnett (Van Heflin, who won an Oscar), his educated assistant, who drinks too much and waxes poetic when he isn't looking after Johnny's interests (and sometimes when he is, too). Eager has only one problem, special prosecutor John Benson Farrell (Edward Arnold) -- who was also the attorney instrumental in sending Eager up -- who has gotten an injunction against the track's opening. But the hood sees an opening when he accidentally crosses paths with a young sociology student, Lisbeth Bard (Lana Turner), who is drawn to him romantically, and then finds out that she's Farrell's step-daughter. After romancing her for a few months, he sets her up in a scam, making her believe that she killed one of Eager's men (Paul Stewart). He "generously" gets her away from the scene and then informs Farrell of what has happened, pointing out that he holds the evidence against Lisbeth. Farrell has no choice but to withdraw the injunction, and the track opens, but problems ensue when rival mobsters decide to try and cut in on Eager and his racket, and he finds out that Lisbeth is so guilt-ridden over her "crime," that she's destroying herself mentally. Eager can't figure out why she feels the way she does or what to do about it, or even if he should do anything to help her, but with Jeff's help, he discovers a nobler side to his nature. Realizing that she really does love him, and knowing it's not possible for the two of them to be together, he goes out in a blaze of glory -- laced with a special irony built into the plot -- solving Lisbeth's problem and also curing her of her love for him, and settling a score or two in the process.
Critic Reviews for Johnny Eager
All Critics (3) | Top Critics (2) | Fresh (1) | Rotten (2) | DVD (1)
Mr. Taylor won't toughen up. He's too nice to be a melodramatic mobster, and he shows it. Lana Turner is similarly handicapped: Metro has swathed her best assets in a toga, swears that she shall become an actress, or else.

Mervyn LeRoy's picture is more a melodrama than a crime-gangster due to star Robert Taylor and the studio behind it (MGM), but it's worth seeing for Van Heflin's Oscar performance as the cynical alcoholic given to philosophical observations.

Nothing can save this syrupy crime melodrama from its eagerness to please as a romantic sudser.
Audience Reviews for Johnny Eager
½
a surprisingly good film with one of the most beautiful screen couples i've seen in lana turner and robert taylor. these two aren't noted for their acting skills but they manage all right, especially taylor playing a dashing but amoral thug. what makes the film work however is the startling performance of van heflin as johnny eager's best friend, an alcoholic intellectual type who is pretty obviously in love with johnny. he's the pivotal character bringing the flat performances of the two leads to life and making eager's redemption in the last act believable. one of the best and most sympathetic portrayals of a gay character in classic hollywood and heflin well deserved his only academy award
Stella Dallas
Super Reviewer
½
Tough little actioner, Lana never more beautiful. Van Heflin excellent in support. Worthwhile
½
With this film about a gangster in love with a girl out of his league, Robert Taylor showed the world that he was more than just a (VERY) pretty face. He showed his soft romantic side that all the ladies loved, but also pulled a badass out of his hat that satisfied the male audience. Lana Turner did a fine job as his love interest (she'd really show her stuff a few years later in The Postman Always Rings Twice), and Van Heflin won an Oscar as Eager's alcoholic sidekick. A good example of 40's film noir.
Johnny Eager Quotes
| | |
| --- | --- |
| Pawnbroker: | Say, it just goes to show you what luck is. 20 minutes ago I was going to close up and I got to reading the paper. For no reason I'm reading, and it keeps me 20 minutes late and I make an 11 dollar sale. Just goes to show you a man can't tell what's going to happen next! |
| | |
| --- | --- |
| Jeff Hartnett: | You know when a woman loves like that she can love you with every card in the deck, and then pull a knife across your throat the next morning. |
| | |
| --- | --- |
| Jeff Hartnett: | Mr. Freud, take a letter. |
| | |
| --- | --- |
| Jeff Hartnett: | This guy could have climbed the highest mountain in the world---if he'd just started up the right one. |