Johnny English
(2003)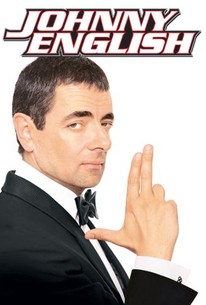 Movie Info
When her majesty's crown jewels are stolen by a conniving Frenchman, who also plans to steal the queen's throne, spy Johnny English, a bit unseasoned but intensely enthusiastic, is thrown onto the case. Fast cars, high tech gadgets, top secret info--Johnny can hardly believe it. He may be in over his head, but his courage and dedication are unmatched--especially after he meets double agent Lorna Campbell and discovers that falling in love makes saving the nation even more exciting.
News & Interviews for Johnny English
Critic Reviews for Johnny English
Audience Reviews for Johnny English
Johnny English is a horrible attempt at doing yet another parody of James Bond. The genre had been parodied with the superior Austin Powers, but it seems like they needed yet another spoof flick to make a bit more money. This film fails at delivering effective laughs. Rowan Atkinson is tiresome and boring here, and you can see the career of a once great comedian fall apart on-screen. Atkinson has created one of comedies greatest characters with Mr. Bean. However with this film, he delivers a painfully unfunny performance that doesn't cut it. This is a pointless film, and if you're looking for the spy film parody, watch the Austin Powers films instead. Rowan Atkinson is wasted here, and he has displayed better comedic performances in the past. This film is simply a misfire. I really didn't enjoy the film, as I felt that the joke were predictable, and overdone. This film was a letdown, and I expected better from Rowan Atkinson. Essentially this is Mr. Bean as a spy, and nothing more. Johnny English could have been good, but it suffers from a poor script, and poor acting. This comedy isn't funny, and there are more bad things with it than good. Rowan Atkinson has done better in the past, but with this one he misses the mark big time. Watch Austin Powers instead. Johnny English is a case of it's been done before, and better too.
OMFG Rowan Atkinson is awesome in this role, he was clearly born to play this role! Its hilarious and thoroughly entertaining and enjoyable with a great cast and a great story and awesome movie! Reallyu worth a wtach!!
Film Crazy
Super Reviewer
Spoof spy movie. Rowan is an inept spy who causes havoc wherever he goes. John is the bad guy who steals the crown jewels and wants to become King of England.
Candy Rose
Super Reviewer
Johnny English Quotes
| | |
| --- | --- |
| Johnny English: | (Concerning Sauvage) You know, I think I'd rather have my bottom impaled on a giant cactus than exchange pleasantries with that jumped-up Frenchman. |
| Johnny English: | [concerning Sauvage] You know, I think I'd rather have my bottom impaled on a giant cactus than exchange pleasantries with that jumped-up Frenchman. |
| | |
| --- | --- |
| Radio Announcer: | We are about to have our first French king since 1066, so we want you to ring in and tell us things you love about the French, We've had no calls yet, but the lines are still open! |
| | |
| --- | --- |
| Johnny English: | As far as I'm concerned, the only thing the French should be allowed to host is an invasion. |
| | |
| --- | --- |
| Johnny English: | Observe boff...the dull incompetence of the criminal mind...it can never hope to match our level of technical expertise... |
| Johnny English: | Observe, Bough, the dull incompetence of the criminal mind. It can never hope to match our level of technical expertise. |