Johnny Got His Gun
(1971)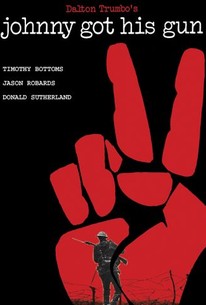 Johnny Got His Gun Photos
Movie Info
The author of the famous late 1930's antiwar book Johnny Got His Gun wrote and directed this film adaptation. It concerns a nameless young soldier (Timothy Bottoms) in a veteran's hospital in the World War I period. The young man has had his face blown off, he is without the use of any of his senses save touch, and also has no arms or legs. He is in a coma at the beginning of the film, and his doctors doubt that he will regain consciousness. This is also what they hope. A nurse, while changing his dressings, discovers that he is awake and responsive. The unrelieved awfulness of his situation is apparent to many. However, in order to keep the "good order" of the military, the regular Army general commanding the hospital will not allow the boy to be seen or his family notified, nor will he permit anyone to perform a mercy killing. Interspersed with this horror are flashbacks of the youth's life before the war. ~ Clarke Fountain, Rovi
Critic Reviews for Johnny Got His Gun
Audience Reviews for Johnny Got His Gun
½
I agree with Greg's (366weirdmovies) review. What cold otherwise have been a masterpiece ends up as an interesting watch due to not-so-great execution. But I guess it'd have taken a director of high talent & caliber to present this genuine story on-screen efficiently. Surely worth a watch once though, IMO. PS: I just got to know (via 'Search Results' here) that there's a remake to this, but I don't think I'd be checking it out now. However, if someone tells you that it's executed better than the original, it's only logical you go for the better one (unless you're one of those who heavily despises remakes).
familiar stranger
Super Reviewer
½
This is one of my favorite books of all time, so to see the film version I knew I would be somewhat disappointed. I think I liked seeing the story in my head a lot better than seeing a stoned Trumbo's version of it. I did enjoy the performances all around, though. Timothy Bottoms, Sutherland, and Jason Robards are all amazing. I did think some of the dream sequences were a little too over the top (the midgets, come on!), but overall, I think the overall message is still as powerful. This is just one of those situations where Trumbo might have just let another director take a stab at it and it would have been more interesting.
½
Dalton Trumbo was one of the top screen-writers in hollywood until being blacklisted in the communist witch hunts of the late 40s. He won an academy award, albiet anonymously for his screenplay of 1958's "The Brave One", and also wrote a pair of 1960 Oscar winning films ("Spartacus" and "Exodus"). Although his career never fully recovered to his position before the House Committee on Un-American Activities' investigation, in 1971, he was able to make his directorial debut on a film adaptation of his 1939 novel, "Johnny Got His Gun". What can be expected of a 65 year old, first time director? Surely not a masterpiece of a film, and yet that's what we got. Trumbo's story of a WWI soldier who is crippled by a mortar shell is of a vein similar to "All Quiet on the Western Front" and "The Best Years of Our Lives", in that it uses the devastating effects of war to question our beliefs of what life and death are really all about. To say the soldier is crippled is an understatement: he loses both his arms and legs, his hearing, and, although we never actually see it, his face is gone as well. He's left as nothing more than "a living pile of meat". The doctors, convinced he is for all intents and purposes brain-dead, keep him alive as a medical curiousity, to be studied and observed for research in further treatments, unaware he is conscious and can feel pain. All he can do is twist his head about, which the doctors attribute to "muscle spasms". The horror of this situation is only alleviated through various fantasies and dreams, oftentimes involving the love he left back home (Kathy Fields), Christ (Donald Sutherland), and the dead of his past, including his father (Jason Robards). Many of the flashbacks involving the soldier's family were taken directly from Trumbo's actual boyhood (in fact, the room where Trumbo's father died was used when filming the death scene of the main character's father). It's difficult, though, to tell which are the flashbacks and which are pure dreams from his imagination. It's possible that everything is a dream (something he acknowledges to himself through his subconscious). His mother (in his dreams) tells him only the soul is real, it's the flesh that's false. Some of his dreams are particularily powerful, such as his conversation with Christ, as he watches the holy carpenter crucifixes to mark the graves of dead soldiers. Christ tries to help him with his dilemma (he imagines a rat crawling on his face): "you should try to knock the rat off, and if there is no rat, it's only a dream- but I can't touch the rat, I have no arms". Christ has no answers for him. Some scenes in this film are so painful, so senseless they must be speaking to the then-fresh wounds of Vietnam. But really, war of any era is just as senseless when it comes to the human aspect. It should be recognized that it's an ugly thing to glorify war, and making it seem like it's anything other than the tragic waste of human life that it is, is reprehensible. Johnny Got His Gun gives us humanity reduced to it's most fragile state, and then asks us to judge what price is worth that cost.
Devon Bott
Super Reviewer
Johnny Got His Gun Quotes