Johnny Suede
(1991)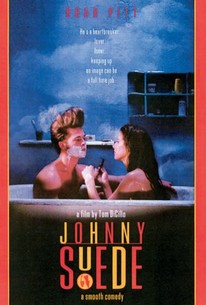 Movie Info
'Johnny Suede' is a contemporary fable about a mildly talented young man with musical ambitions who is forced to confront some truths about himself.
Critic Reviews for Johnny Suede
Audience Reviews for Johnny Suede
½
Johnny Suede, a young man with a freakishly large pompadour (Brad Pitt), tries to pay the rent, keep a girlfriend, and make it as a musician in the big city. Suede, who's stuck in the 1950s and not entirely sympathetic, is an interesting character but the script doesn't give him much of interest to do. Quirky casting (Tina Louise and Nick Cave in small roles) helps a little but not enough.
Lackluster early Pitt star effort about the attempts of yet another drifter trying to make it in New York. I'll bet he'll be lucky if some legit broad, say like Cat Keener maybe, can find it in her heart to put up with his delusions of grandeur.
Kevin M. Williams
Super Reviewer
Though Pitt puts on a particularly good performance to accompany some good songs and other high points, "Johnny Suede" still isn't the most solid movie in the world. It's underdeveloped, drawn out and also suffers from some cliches, melodrama, forced story turns and a deal of other cons. In the end, "Johnny Suede" has little in it, but still makes for a resonably fair time-killer and starring debut for Brad Pitt.
Cameron Johnson
Super Reviewer
Johnny Suede Quotes
| | |
| --- | --- |
| Johnny Suede: | Suede is a funny thing. It's rough, but soft. It's strong, but quiet, and doesn't wrinkle, and doesn't crack. And doesn't stand out so much in a crowd of leather and vinyl.You don't notice it a first. But once you do, you can't take your eyes off of it and you wonder how in the hell you ever overlooked it in the first place. |