Jonah Hex
(2010)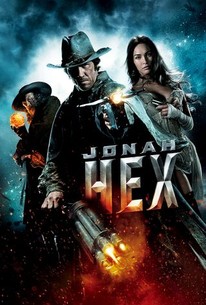 TOMATOMETER
AUDIENCE SCORE
Critic Consensus: Josh Brolin gives it his best shot, but he can't keep the short, unfocused Jonah Hex from collapsing on the screen.
Movie Info
1970s-era DC antihero Jonah Hex makes his way to the big screen as co-screenwriters Mark Neveldine and Brian Taylor (Crank, Gamer) team to follow the disfigured gunslinger and part-time bounty hunter on his biggest adventure yet. Supernatural elements combine with Western aesthetics to take viewers on a wild and bloody ride, with Josh Brolin leading the way as Hex and John Malkovich stepping into the villainous role of Turnbull. Jimmy Hayward (Horton Hears a Who) directs. ~ Jason Buchanan, Rovi
News & Interviews for Jonah Hex
Critic Reviews for Jonah Hex
Audience Reviews for Jonah Hex
½
I'll start by saying that I've seen my faire share of bad film, and to be honest, Jonah Hex wasn't that bad of a film. Of course it's a ridiculous affair, a film that is shallow in its story, but is somewhat entertaining despite its significant flaws. I didn't hate the film, but I felt that it could have been much better as well. I've seen my fair share of bad films, and I got to say that Jonah Hex is nowhere near the ineptitude garbage that films like Movie 43 and Texas Chainsaw were. This is somewhat entertaining, albeit it doesn't do anything really good with its ideas, and it does squander its potential. The film is mindless popcorn action, and it's decent at best, but it's definitely not great. I liked some aspects of the film, and the comic book vibe the film had was quite good, but the script was just empty, and the film's ideas never really took off. Jonah Hex for me anyways, isn't as bad as I thought it was going to be, but it's not a good film either. The film should have been much better than this, as there were some appealing things about it, however due to a lacking script, the film's ideas never come to fruition and it does make you wonder how good this film could have been if the screenwriters would have reworked the story a bit more. For metal fans, you'll probably enjoy Mastodon's soundtrack, and the cameo by the band's guitarist Brent Hinds as a Union Soldier. Not as bad as what I expected, but it does leave a bit to be desired, however I must say that I have seen far worse films than this one. At least this film had a few entertaining action scenes, if only the plot had been reworked, then this film really could have been something special.
½
The premise based on the comics has potential: a gunslinger who was so close to dying that he can now talk to the dead, while trying to stop a megalomaniac terrorist. The most pleasant surprise of the supernatural Western mix is the cast and how many well-known people show up in rather small and surprising roles. They may feel a tad underused but on the other hand it's fun to see them all come together. The less pleasant surprise is the kind of film they joined in. It does have it's moments and is rather entertaining, but also pretty damn shallow when it comes to dialogs and action. The shootouts are always rather short (and with the type of shredding metal guitars, that seem to imply speed and excitement but are just annoying), the characters remain flat. The short running time of the film implies that the creators were not that happy with it, either and tried to make it out alive as fast as possible.
Mixed feelings about seeing this one.
Jonah Hex Quotes
| | |
| --- | --- |
| Jonah Hex: | War and me took to each other real well. It felt like it had meaning. The feeling of doing what you thought was right. But it wasn't. Folks can believe what they like, but eventually a man's gotta decide if he's gonna do what's right. That choice cost me more than I bargained for. |
| | |
| --- | --- |
| Adelman Lusk: | Sure hope you succeed. I would surely hang if you didn't. And that's something I'd like to avoid. |
| Quentin Turnbull: | (shoots Lusk in the head) Consider it avoided |
| Quentin Turnbull: | (shoots Lusk in the head) Consider it avoided. |
| Quentin Turnbull: | [shoots Lusk in the head] Consider it avoided. |
| | |
| --- | --- |
| Burke: | Tell me whats it like to go through life with a face like that? |
| Burke: | Tell me, what's it like to go through life with a face like that? |
| Jonah Hex: | Lemme show ya... |